Academics' Choice Award™ Winner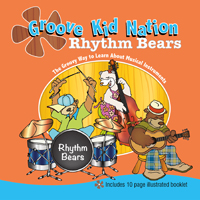 Rhythm Bears
Ages: 3 - 7
Price: $15.98
Type: Audio CD
By
Groove Kid Nation
Description
Groove Kid Nation continues its award winning music education series with a third release, Rhythm Bears. Producer Rodney Lee once again recruits top L.A. musicians, but this time heads deep into the woods to create a soulful folk hoedown. As the title suggests, Rhythm Bears is all about drawing kids into the music with rhythmic call and response games that will have them clapping, stomping, playing percussion, and vocalizing to the beat.

The Groove Kid Nation series tracks Lee's efforts to create age-appropriate music education tools for his son (now 4). When his toddler turned 3, Lee began to see that his son was ready for more complicated rhythmic games. Therefore, he decided that this should be the focus of the next CD.

While researching the subject of children and rhythm, I came across an alarming statistic by University of Michigan professor Phyllis Weikert, explains Lee.

In 1981, 80 - 85 percent of female high school students could keep a steady beat and 60 - 66 percent of males. In 1991, the percentages dropped to 48 percent and 30 percent respectively. Less than 50 percent of adults have the ability to keep a steady beat. Only 10 percent of kindergarten students could keep a steady beat. This ability should be in place by two to three years of age. The prime time to teach it is up until the age of seven. -EarlyChildhoodNews.com

In addition, I came across loads of research showing that keeping a steady beat improves language development in children, Lee further explains. This was all the inspiration I needed to get busy.

While the first two releases from Groove Kid Nation are rooted more in soul and funk, the Rhythm Bears opens children's ears to an entirely new set of musical instruments including harmonica, fiddle, acoustic guitar, acoustic bass, clarinet, kalimba, ukulele, and even didgeridoo. The soul and groove are still there, but the sound takes on a country twist.

Finally, the growing website GrooveKidNation.com offers further resources for parents and children via videos, articles, free coloring book downloads, and even a Buyer's Guide to the Best Musical Instruments for Kids Under Age 5.

Ten percent of the wholesale price of Rhythm Bears will be donated to CARE, a leading humanitarian organization fighting poverty (www.care.org).
Review Highlights:
We popped this CD into our car's CD player when we set off on a road trip. Everyone from the parents to the 16 year old to the 12 year old and the 6 year old enjoyed the music, clapping and playing along. We really enjoyed the instrumentation (especially the clarinet), and the folksy style of the songs. The "bears" were really cute as well.
Rhythm and movement are so important for emotional and intellectual development. Many studies have shown that harmonious, rhythmic interaction are correlated with cognitive ability. This CD's rhythmic call and response games not only got our family clapping, dancing and stomping, but it clearly helped sharpen our synapses. After listening to the music my children began asking reflective questions about the world around them. I recommend Rhythm Bears to all my friends.
Rhythm Bears is the perfect cd to engage young children (roughly ages 2-7) in song, movement and dance. The music is upbeat, funky and acoustic based. The cd is mixed and mastered with care going toward lead vocals and acoustic guitar. The singer has great energy and sings clearly enough for children to listen and follow directions. For instance, song 2 builds from stomp dancing to stomping and clapping, adding complexity for kids who are ready for it. The cd introduces all kinds of instruments such as banjo, harmonica, drums, didgeridoo, piano and many others. This is a fantastic cd to have as a part of your child's music collection. Well done, Rodney and band!
Buy this product at:
As an Amazon Associate we earn from qualifying purchases.