Academics' Choice Award™ Winner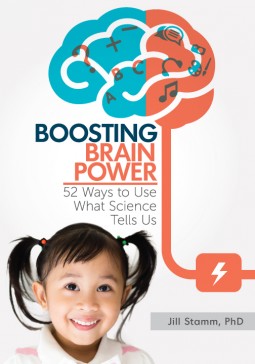 Boosting Brain Power: 52 Ways to Use What Science Tells Us
Ages: 16 and up (Adults)
Price: $12.95
Type: Book
By
Gryphon House, Inc.
Description
If the timing is right, the learning that occurs in the first five years can be a gold mine, promoting valuable cognitive and physical development that lasts a lifetime. Boosting Brain Power provides 52 strategies - one for every week of the year - to help teachers stimulate healthy brain growth in young children. In addition to well-researched strategies, each snippet of information offers teachers evidence-based instructions for how to bring the concepts to life in the classroom.




Review Highlights:
This book was designed for parents and caretakers of young children. The book focuses on early brain development and encourages the use of music, reading aloud, physical activities/exercise and the importance of play for children.
The book was carefully crafted and informative.
In this age of "let's let technology do the training" this book is a breath of fresh air. It stresses (without preaching) the importance of real life human interaction as a means to helping our children's brains develop properly. It encourages physical, mental and emotional interaction to help shape a well-rounded individual. I think it should be mandatory reading for people who do childcare as a profession -- so many in-home caretakers use electronics as a means to babysit not realizing how negatively this can affect a child's development.
Buy this product at:
As an Amazon Associate we earn from qualifying purchases.