Academics' Choice Award™ Winner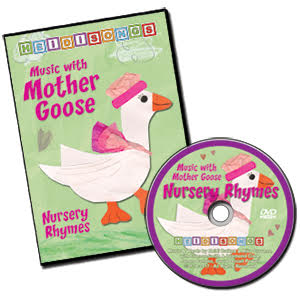 Music with Mother Goose Nursery Rhymes Animated DVD
Ages: 0 - 6
Price: $15.00
Type: DVD, Audio
By
HeidiSongs
Description
This new video DVD from HeidiSongs, Music with Mother Goose Nursery Rhymes - Animated DVD, is a wonderful learning tool. Nursery Rhymes are a time honored tradition for children for a very good reason: they build language skills such as vocabulary, rhyming words, proper articulation, counting skills! As children learn these traditional rhymes, they exercise and stretch their memory skills, which helps them prepare to memorize future material. This means that learning nursery rhymes helps the brain "practice memorizing" so that it will be ready to remember harder things, such as the alphabet, sight words, or math facts.

In this DVD we've animated the songs from our award winning Nursery Rhymes CD where each nursery rhyme is set to music to make memorization quick and easy! And now, with the DVD, your child can follow the music, movements and animations for a fun, active learning experience. Nursery rhymes give children a chance to practice proper pitch, volume, and voice inflection in a low pressure, playful way. When kids put their whole body into it, they canít help but learn!
Review Highlights:
Children learned to sing nursery rhymes and perform actions with the nursery rhymes.
I loved that the DVD promoted singing and moving together in groups as it really improves children's behavior. It helps the class bond.
I enjoyed the movement of the paper characters. The actions of the actors were happy and encouraging of children to dance. There was an appropriate amount of ethnicity also included.
My students love to dance and move to music and this DVD got them excited. The repetition combined with the actors showing the dance moves helps the body and the mind work together and promotes word memorization. The songs and movements also help young children learn the sounds and meanings of words. The dancing helps children build motor skills and provides an "energy outlet" while promoting self-expression.
This disc provided 30 minutes of nursery rhymes and a bonus ABC song. Each song included an actor as the leader who appeared happy and performed the actions nicely.
Buy this product at:
As an Amazon Associate we earn from qualifying purchases.