Academics' Choice Award™ Winner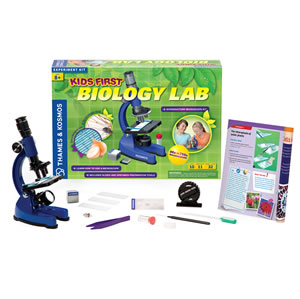 Kids' First Biology Lab
Ages: 8 and up
Price: $36.95
Type: Gear & Equipment, Book
By
Thames & Kosmos
Description
Discover the science of living things with this complete introductory microscope kit. The beautifully illustrated experiment manual guides you through observations of many living specimens found in and around your home: onion cells, pond water, chloroplasts, plant stem cross sections, microorganisms, mouth cells, meat cells, different types of hair and fur, dust mites, bugs, pollen in honey, and much more.

See how an onion cell shrivels and how an earthworm wiggles. Analyze the differences between the hair on your head and the sheep's hair in your wool sweater.

The kit includes three prepared specimens on a slide, four blank slides, cover slips, tweezers, needle, section slicing tool, and vial. Learn how to use these tools to prepare slides and how to use the microscope to examine them. Investigate how the lenses in a microscope bend light to magnify images.

The ocular lens, or eyepiece lens, of the microscope has an adjustable 12x to 18x magnification power. When combined with the three objective lenses, this results in a total magnification power of 96x to 750x. It has a battery-powered light and a mirror to light up the specimens. The full-color, 32-page manual covers microscope setup, usage, and many fascinating observations of biological specimens.
Review Highlights:
What a great microscope for under $50! My son and I were eager to begin using the microscope so we opened it up, skipped the experiment manual and went to work. After putting in the 2 AA batteries we looked at a few slides. We looked at human hair and onion skin cells. He was amazed! Tomorrow we are off to collect specimens in the yard to examine!
The experiment manual helped us get started. It got our wheels turning. Now my daughter is comparing everything under the scope. She's examining fruit as I type. As a parent I love that fact that it's durable and easy to use, and subtly develops important thinking skills like deduction, observation, and evaluation.
Buy this product at:
As an Amazon Associate we earn from qualifying purchases.