Academics' Choice Award™ Winner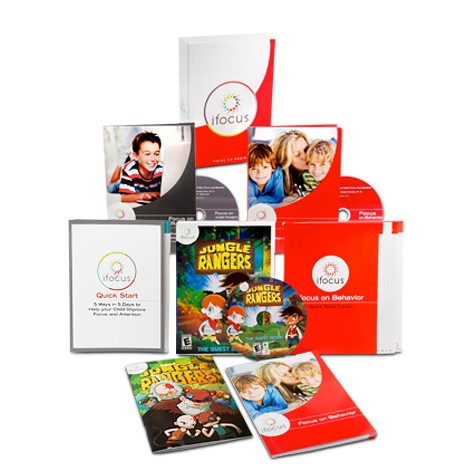 ifocus (Jungle Rangers)
Ages: 6 - 12
Price: $199.95
Type: Software, Game, Book
By
Focus Education
Description
ifocus is a holistic attention-training program that combines an adaptive-learning computer game with behavioral, fitness, and nutritional support to improve your child's ability to focus. A highly-regarded team of child neuropsychologists, health specialists, and game producers took 20+ years of brain-training research to develop this fun, yet beneficial system that will give your kids an edge in concentration now and long into the future.

The "Jungle Rangers" computer game--which is the core of ifocus--uses fun and interactive task-based gaming principles to both improve your child's performance as they play while rewiring important neural pathways to enhance focus and concentration. Each activity in the Jungle Rangers game targets different tasks that are designed to improve some aspect of attention:

- SPAN TASKS help children absorb, store and manipulate information for progressively longer periods of time.
- CONTINUOUS PERFORMANCE TASKS (CPT) help children block out distractions so they find it easier to pay attention during "boring" activities or stay attentive when they may have "zoned out" before.
- N-BACK TASKS help children learn to store and update information that can be easily recalled when needed to achieve a goal.
- IMPROVEMENT MONITORING provides insights on each player's performance (length of time spent on each game, what games the player excelled at, etc)--parents can easily identify the challenging material and encourage their kids to spend more time with it.

Beyond the game, ifocus also includes comprehensive nutritional, fitness and behavioral support that enriches the progress your child makes when playing Jungle Rangers, making ifocus an integrated and all-ecompassing approach to building healthy, happy and successful kids.
Review Highlights:
I was very impressed by the amount of information that was in the package. I received the CD, the comic book, quick start cards, a focus on behavior book and a focus on body/nutrition book. These books are full of information and organizational plans that are written by doctors. I was so overwhelmed by the packaging and content that I decided to jump right in using the quick start cards. It didn't take more than 10 minutes to be up and running, playing the video game. The graphics are cutting edge; any child between the ages of 6-12 will be happy with them. After moving around the world a bit and playing a few games, I asked my 7 year old to play. The producers of the game suggest playing at least 30 minutes a day, 3 days a week for results. My child played 2 hours straight. I had to pull him off the game. He loved the cognitive challenges that the game had to offer.
I'd recommend this product to anyone who is open to their children playing video games to help develop better memory, focus and attention span. If your child has been clinically diagnosed with ADD or ADHD and you are looking for something to possibly help out, try it. The price tag is steep ($200) but compare it with all of the tests and meds that your child has gone through. This cost is a drop in the bucket. Plus, the product comes with a fitness and nutritional component. Current science is suggesting that attention and focus problems are not just genetic but are caused by lack of attention to a proper diet and good exercise. Jungle Rangers is a great addition to my child's collection of games and apps. Nice work ifocus.
Buy this product at: