Academics' Choice Award™ Winner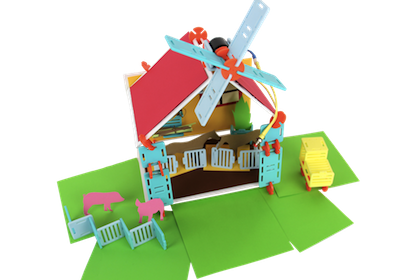 Deluxe Roominate
Ages: 6 - 12
Price: $49.99
Type: Hands-On Toy
By
Maykah, Inc.
Description
Roominate is the DIY wired dollhouse building kit that gets girls excited about STEM. Through hands-on building and circuits, Roominate brings together creativity, engineering, and most importantly, fun! Roominate is designed by Alice and Bettina, two female engineers from Caltech, MIT, and Stanford with a mission to inspire the next generation of female technology innovators.

The Deluxe Roominate contains everything your daughter needs to build her own miniature room. With twice as many building pieces and circuits as the Basic Roominate, she can build and wire up even more furniture and contraptions for her creation! Build more bunk beds, longer water slides, and bigger staircases, or wire up a working elevator and lamp with the motor and light circuits. The wall and floor panels can even be configured to build two-level structures, balconies, or backyards. The possibilities are endless! See more ideas at roominatetoy.com, along with pictures of what other girls have made!

Roominate has been featured in the New York Times, Wall Street Journal, USA Today, and more!

What's inside:
- 4 wall/floor panels (2 9"x6" and 2 6"x6" panels)
- 48 modular building pieces (assorted teal, light blue, and yellow)
- 16 connectors (orange)
- 1 motor
- 1 light
- 2 switches
- 2 battery packs (requires 4 AAA batteries total, not included)
- Colored paper (20 sheets)
- Shiny tape (2 rolls)
- String (24")
- Felt (4 colors)
- Stickers (8 sheets)
Review Highlights:
The Deluxe Roominate Wired dollhouse Building Kit is exactly what so many girls need in today's world. The school system rarely offers opportunities for girls to develop engineering skills, mechanics and logic but this "toy" embraces the idea and concept that girls can think and do what has been traditional thought of as a boy's skill set. The Deluxe Roominate provides a hands-on experience (for both girls and boys) using a real-world problem-based approach that correlates with STEM subjects. Children can build, design and even run circuts in their dollhouse. The Deluxe kit comes with windmills, washing machines, an elevator and more. I highly recommend this product to any parent that has a young girl that is naturally inclined toward the logical and mechanical side of things.
Buy this product at:
As an Amazon Associate we earn from qualifying purchases.