Academics' Choice Award™ Winner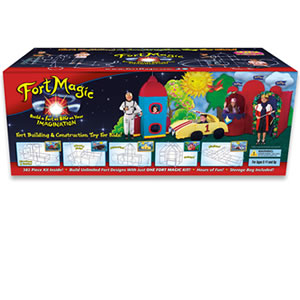 Fort Magic Fort Building & Construction Toy Kit For Kids
Ages: 5.5 and up
Price: $199.00
Type: Hands-On Toy
By
Fort Magic, LLC
Description
Fort Magic is a patented, large-scale building and construction toy, that provides the combined joy of building & engineering with unlimited creative play for children and families! Our unique, patented combination of sticks, connectors and accessory clips is truly like no other, and allows children to create endless designs from just ONE Fort Magic kit; promoting hours of educational & creative playtime children and parents love!


Review Highlights:
Many cognitive and social skills can be developed by using the Fort Magic Construction Toy Kit. From spatial reasoning, problem solving and small/large motor to mathematical concepts and social emotional development (when building in small groups). This construction toy has limitless potential.
The quality and safety factor is of the highest standards. My two boys (4 and 7) built amazing, life size forts that they could play in. Unfortunately it was a castle and they needed swords. Although Iím sure the manufacturer didn't mean for the connector pieces to become staves or swords, the boys put it to the test and nothing was broken. This is the perfect gift for any child that enjoys building. It is also great for when friends come over to play at our house; we give them the bag of Fort Magic connectors and a stack of blankets and they are off on their own for hours! Two big thumbs up!
Buy this product at:
As an Amazon Associate we earn from qualifying purchases.