Academics' Choice Award™ Winner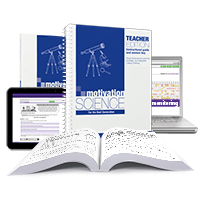 Total Motivation Science for the Next Generation
Ages: 10 - 11
Price: $14.45/Student Edition
Type: Website, Software, Book
By
Mentoring Minds
Description
Total Motivation Science for the Next Generation is a supplemental curriculum that fully supports the NGSS and STEM connections. Delivered in both print and online formats, the resource helps students deepen their understanding of Science and Engineering Practices, Disciplinary Core Ideas, and Crosscutting Concepts, preparing students for their future careers and inspiring curiosity about the natural world. The Teacher Edition provides robust instructional support aligned to the 5E Learning Model that aids teachers as they transition to the NGSS. The Student Edition introduces subject matter with hands-on investigations, activities, and assessment items that are coded to the NGSS; Science, Technology, Society, and the Environment (STSE); Nature of Science; Engineering Design; and the state standards for Math and ELA. To incorporate an extra layer of rigor, all instructional activities are also coded to Depth of Knowledge (DOK) and Bloom's Taxonomy (Original and Revised).


Review Highlights:
The online platform offers supplemental practice in four main areas: matter and energy, earth systems, space systems, and engineering design. The interactive activities and assessments were relatively easy to use and assign to specific students. I particularly liked the engineering design lessons as it's not an area often stressed. Students get to use their imaginations to design a new toy and are led through a series of open-ended question activities to become familiar with the steps that engineers follow to come up with a solution to a problem. The ability to mix online and offline content is also a wonderful approach.
I really like the emphasis on critical thinking and hands-on activities. The content is engaging, standards aligned, and there are multiple ways to assess student growth.
Buy this product at:
As an Amazon Associate we earn from qualifying purchases.