Academics' Choice Award™ Winner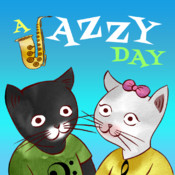 A Jazzy Day
Ages: 3 - 8
Price: $4.99
Type: Mobile App, Book, Game
By
The Melody Book
Description
Apple's New and Noteworthy and What's Hot in Education • Apple's Staff Favorites for Education • Winner of the Children's Technology Review Editor's Choice Award • Winner of a Parents' Choice Award • Mentioned in NYTimes apps to acknowledge

Does your child know what a tenor saxophone looks like or what a guitar sounds like? This top educational app offer your kids a brand new musical learning experience!

A JAZZY DAY - SWINGING WITH THE BIG BAND is a fun and interactive story that will teach your child about music instruments. The book features original illustrations and music, as well as sounds from real acoustic instruments.

• "This game will lay down the first foundations of musical education and be the first step towards your child wanting to play an instrument—something I still regret never doing." - Wired/Geekmom
• "A winning app. This highly user-friendly primer gives kids both a macro and micro lesson about jazz music." - Kirkus Reviews
• "Truly exceptional app" - iPad App Review
• "Every so often an app blows me away, and A Jazzy Day was successful at doing just that." PadGadget
• "Superb blend of high quality animation, original music, great story-telling, interactivity, and game playing. BRAVO!" - iHeart This App
• "This melody book is amazing! The kittens are adorable and the music is really great!" - Musicians With Apps
• "A family that loves music, and feels music is important, will benefit from having A Jazzy Day. The story is cute and the games are excellent." - Apptudes
• "A Jazzy Day is a great app that helps broaden children's knowledge of instruments and gives them a new appreciation for music." - The iPhone Mom
• "A fantastic introduction to the sound, shapes and names of instruments in beautiful and unpretentious solid app." Apps 4 Kids

Join the two cute kittens as they visit the Jazz Big Band and meet the animal musicians! Enjoy the images, sounds and animation!

Play the featured interactive audio and visual games "Find The Instrument" or "Which Instrument Sounds Like This?" and put your knowledge to the test!

A JAZZY DAY is easy to use! Kids simply tap on the instruments to hear the sounds.

CREATED BY PROFESSIONAL MUSIC EDUCATORS - DESIGNED FOR YOUNG KIDS ( and for "kids" of all ages! ) 


Special Features:
• Interactive pages - touch the animals or instruments and listen.
• Original Jazz Big Band music (recorded live).
• Audio recordings of real acoustic instruments from professional musicians.
• Your child will learn to recognize the sight and sound of a saxophone, trumpet, trombone, bass, vibraphone and more.
• Animated Big Band arrangement demonstrating the use of the different instruments and sections.
• Vivid and colorful illustrations that every kid will love.
• Read to Me - reads and plays the story automatically.
• Read it Myself - allows you to read the story at your own pace.
• Educational Games : "Find the instrument" and "Which instrument sounds like this".
• Take a picture with the musical kittens and share your photo!
• Very easy and simple to use - especially designed for little fingers.
• This app will teach and inspire your child to start playing a music instrument.
• Fun for children, and parents will enjoy watching their kids learn!

The music instruments featured in the book are:
Bass
Drums
Guitar
Piano
Vibraphone
Trumpet
Trombone
Alto Saxophone
Baritone Saxophone
Tenor Saxophone
Flute
Clarinet
Conductor
Review Highlights:
A Jazzy Day is like music appreciation 101 for a child. This app is a wonderful way for children and adults alike to learn about the instruments associated with a jazz band. The app is simple and kid friendly while at the same time can teach adults to become better listeners.
The app has an audio story (you can read on your own as well) for your child to enjoy. Both my 3 year old and 6 year old love it. The story outlines the parts of a band beginning with rhythm section. The stand up bass and drums are introduced. Drums and guitar are then brought into the story but what is really great about this story is that the main characters are playing the instruments (in the case of a piano, it's a goose) and the user can click on them to listen to the instrument on its own. This teaches the user about how to discriminate between each sound in the song and better analyze and enjoy the piece as a whole. Vibraphones, horns, flutes and compositional ideas are covered as well.
This has got to be one of the best music apps we have reviewed so far! Well done!
Buy this product at:
As an Amazon Associate we earn from qualifying purchases.