Academics' Choice Award™ Winner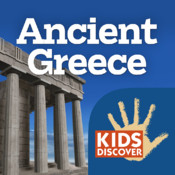 Ancient Greece for iPad
Ages: 8 - 12
Price: $3.99
Type: App (iPad)
By
KIDS DISCOVER
Description
Apps by Kids Discover bring engaging nonfiction topics to life, through smart prose, beautiful photographs, HD video, select audio enhancements, and custom animations. Apps by Kids Discover are sold for use in the home, and in the classroom, and have been featured by Apple over 10 times in the App Store. We now have 18 iPad apps, each one focusing on a single nonfiction subject.
Review Highlights:
I actually didn't know that the first Olympic athletes competed in the nude! This app is chock-full of interesting tidbits that engage young minds while teaching about ancient Greece. It covers famous philosophers, the founding of democracy (and why), architecture, literature, arts, clothing, food, gods, the Greek alphabet, and much more. There is even a 3D panoramic view of the Parthenon! My son and I loved it!
Buy this product at:
As an Amazon Associate we earn from qualifying purchases.