Academics' Choice Award™ Winner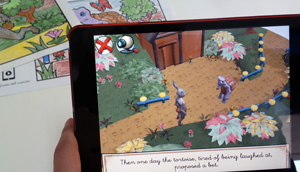 The Tortoise and the Hare
Ages: 4 and up
Price: $1.99
Type: App (iOS & Android), Book, Software, Printable Coloring Sheets (with Augmented Reality)
By
Arloon Kids (Paradox Team S.L.)
Description
The app is based on Aesopís classic fable ďThe Tortoise and the HareĒ.

Children venture into a world of dreams and animation, discovering the fable in a personalised way through a drawing they have coloured in. The drawing comes alive and the children become the protagonists, taking part in the action and the story. Discover a new way to read books: paint the characters as you want, aim your camera and you will see them appear in 3D through the Augmented Reality. Furthermore, you can interact with them and listen to the narration of the tale in English and Spanish.

They become part of the story and what they do teaches them important lessons about life:

-Donít make fun of others.
-Identify your own strengths and limitations and those of others.
-Identify competitive advantages.
-Donít let laziness and arrogance stop you from reaching an objective.
-Remember that speed is not always the key to success.
-Develop your skills.
-Create attainable goals.
-Work with and help others as a team.


The app assists the childís development, encouraging them to analyse situations, make decisions and follow instructions. It also teaches the values of responsibility, determination, perseverance, respect for others and nature, positive thinking, creativity, imagination and originality.


Review Highlights:
Engaging, innovative, and unique!
The moral to this Aesop is universal, my children had heard it many times before. I must say though, this is the most amazing technology I've ever seen! It brought to life a 2 dimensional image into a 3-D story. We were all blown away!
I can't wait to try Arloon's Geometry, Anatomy, and Chemistry apps. The Tortoise and the Hare app was terrific! My daughter was so proud and amazed when her coloring sheets came to life. At first I thought the augmented reality feature may distract from the morals bestowed in the tale but I was wrong. It deepened the lesson and made her even more engaged with the content.
Find this product at:
As an Amazon Associate we earn from qualifying purchases.