Academics' Choice Award™ Winner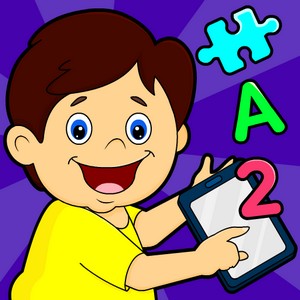 AutiSpark: Games for Kids with Autism
Ages: 1 - 8
Price: Free (Offers In-App Purchases)
Type: App
By
IDZ Digital Private Limited
Description
AutiSpark is an educational program especially made for children with Autism Spectrum Disorder (ASD) with learning games tested and approved by special educators and occupational therapists. If you are struggling to teach basic concepts to your child, AutiSpark is a must-try for you.

AutiSpark offers a multitude of well-researched, engaging, and interactive learning games. Kids can learn to associate objects via their pictures, understand emotions, do sorting, recognize sounds and words, and do much more.

- Suitable for children with Autism Spectrum Disorder (ASD).
- Specially designed educational games and activities.
- Engaging content to ensure the child's focus and attention.
- Develop basic visual, communication, and language skills.
- Improve social skills with learning videos.

These educational games are made by considering the various needs of kids on the autistic spectrum, with the help and guidance of expert therapists. It includes positive reinforcement that kids need to learn and remember. These games are created keeping the core concepts in mind to help kids learn the basic skills needed on a daily basis.

Words & Spellings:
It can be challenging to teach reading skills to children with autism. Our early reading comprehension will focus on recognizing letters, letter combinations & words.

Basic Math Skills:
AutiSpark gives math a good start with the recognition of numbers, patterns, etc.

Social Videos:
AutiSpark has a range of learning videos to help kids learn and develop their social skills.

Tracing Games:
Writing is an important skill that every young child needs to master. AutiSpark teaches uppercase and lowercase letters of the alphabet, numbers, and shapes.

Memory Games:
Kids will sharpen their memory and cognitive skills by playing fun and educational memory games. There are different levels of difficulty to suit the child's needs.

Sorting & Matching Games:
AutiSpark will teach kids to sort and match different objects by color, shape, similarities, association, etc. It will make their logical thinking stronger.

Puzzles:
Puzzle games will help children to improve problem-solving skills, mental speed, and thought processes.

Yes or No Games:
The concept of Yes or No is difficult for kids on the spectrum to understand. These unique games will be helpful to them.

Eye Direction Games:
Children with autism respond better to visual cues. These games will help them to understand the directions and pick the objects by looking at the eyes on the screen.

Want your child to learn essential skills? Download AutiSpark - Autism Games now!


Review Highlights:
This is app is research based and it shows! I've spent time with children diagnosed with ASD and this app would be ideal for them. It is colorful, simple and introduces activities step by step for the child. AutiSpark is a wonderful addition to all of the online worksheets and books that are available as well. Each detailed skillset can be found on the website whether or not you want your child to complete the activities on paper, or just enjoy more practice. Great app for kids with ASD.
I found this app about three months ago when searching for appropriate, individualized learning for my son on the app store, and it has not disappointed us! It's specifically designed to support children on the autistic spectrum, and is packed with educational content that helps children practice so many skills such as cognitive, math, letter recognition, puzzles, and much more. It's visually simple, user-friendly, and based on repetition and positive reinforcement. My five year old loves playing the matching and pattern games, and his favorite is sorting different items like construction trucks into the proper bin while the cute characters dance. AutiSpark has been a huge support for our son as he progresses in his skills, and especially with school being online, it's been a great supplement to his education.
Children learn and practice skills such as matching, sequencing, sorting, pattern recognition, daily tasks, visual processing, language, and communication skills.
Buy this product at:
As an Amazon Associate we earn from qualifying purchases.