Academics' Choice Award™ Winner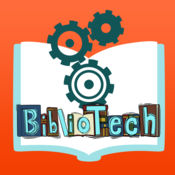 Bibliotech - Cityhacks: In Search of Sleep
Ages: 10 - 14
Price: Free
Type: Mobile App, Game
By
The Partnership in Education
Description
BiblioTech™ is a platform for enjoying engaging learning experiences through reading and interactive materials. Learn important factual content, like the science behind why getting enough sleep is so important. And you get to do this while you build your own branching story. Each chapter features a decision point where the reader decides where to go next, which creates 100s of variations on the flow of the story.

While reading the story, you'll be able to take notes in your notebook. Images, illustrations, definitions, and key terms and concepts can be collected in your digital notebook. Interactive items contain games, video interviews, and activities that can give you more notes that you can add to your notebook. By taking notes, you will be able to influence the storyline and help the main character complete her quest.

Features include:

Unique and Interactive Experiences
-Choose how the story unfolds as you read
-Play fun games and puzzles
-Watch video interviews with real life experts
-Interact with colorful charts and graphs

Easy-to-use Reading and Note Taking Tools
-Turn pages with a swipe
-Easy navigation inside the book
-Take notes while you read
-Tap highlighted words for instant definitions
-Automatically save your progress as you read


Review Highlights:
Students practice reading and deductive reasoning. We really liked how students could choose how the story unfolds as you read. The fact that the app automatically saves your place was a pleasant surprise and made it easy to pick up where you left off.
My nephew reported that he really enjoyed the game once he got the hang of it. My 4th grade nephew stated: "I liked the games and had to find clues so that the character could go to the city hacks. Once I figured out what to do it is a lot of fun and I plan to continue playing."
Buy this product at:
As an Amazon Associate we earn from qualifying purchases.