Academics' Choice Award™ Winner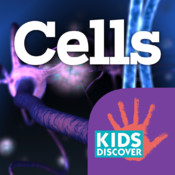 Cells for iPad
Ages: 8 - 12
Price: $3.99
Type: App (iPad)
By
KIDS DISCOVER
Description
Apps by Kids Discover bring engaging nonfiction topics to life, through smart prose, beautiful photographs, HD video, select audio enhancements, and custom animations. Apps by Kids Discover are sold for use in the home, and in the classroom, and have been featured by Apple over 10 times in the App Store. We now have 18 iPad apps, each one focusing on a single nonfiction subject.
Review Highlights:
Excellent app! I'm a sixth grade science teacher and I was very impressed with the amount of content covered by the Cells app. I hooked up my iPad to a projector so I could share the content with the entire class. The videos and 3D models nicely supplemented my existing lessons and helped bring the micro-world to life more vividly. I particularly liked the integration of the history of cell discovery. The zoom-in of the cell was better than our textbook.
Buy this product at:
As an Amazon Associate we earn from qualifying purchases.