Academics' Choice Award™ Winner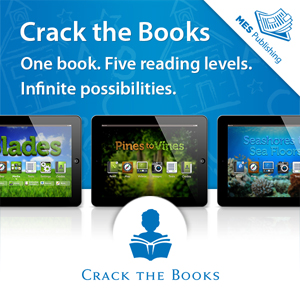 Crack the Books
Ages: 8 - 12
Price: $20/year
Type: App, Book
By
MES Publishing LLC
Description
Crack the Books is a series of highly interactive digital books for the iPad that completely re-imagine everything that a digital book can be.

When students struggle with reading, it is challenging to find content suitable for their individual needs that keeps them on pace with the rest of their peers.

This is where Crack the Books excels.

Easily adjustable reading levels and built-in tests allow educators to customize each book to match student reading abilities, while keeping the lessons being taught the same.

Hundreds of state-of-the-art interactive features not only help kids gain a deeper understanding of the material, but also find joy in reading and learning.

With multiple books covering earth sciences and many social studies books on the way, Crack The Books helps students learn about the world around them, while becoming more engaged, confident readers.

Review Highlights:
The adjustable reading level concept is revolutionary! Books that can be adjusted for different reading levels and still teach the same lessons - simply outstanding! All you have to do is click on Levels and choose between reading levels 1 through 5 (1 being the easiest). You can even adjust the text size.
Crack the Books offers 15 non-fiction, standards based, core curriculum aligned, science and history digital books that take reading comprehension and interactivity the next level. My 4th grade students were thoroughly engaged and loved the alternative to traditional textbooks. The texts are very well written and include amazing pictures and animations, but what makes the digital books even more engaging, and effective teaching vehicles, are the added features. Each book includes read-to-me and read myself functionality, clickable words that pop-up definitions to expand vocabulary and understanding, highlighting, note-taking, videos, interactive charts and globes, and truly fun facts.
As a teacher I was pleasantly suprised to find that each chapter offered tests that were automatically graded, and even included essay questions. The chapter by chapter glossaries were even tailored to reading level. Plus, there are lesson plans, worksheets, activities, and even study guides. The price is excellent too - a great value for all you get.
The adjustable reading level lends itself well to mixed-age classrooms and homeschooling parents with different aged kids. Now everyone can learn the lessons at the same time while building reading confidence!
Buy this product at:
As an Amazon Associate we earn from qualifying purchases.