Academics' Choice Award™ Winner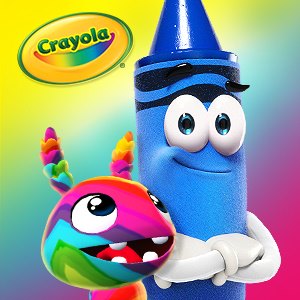 Crayola Create and Play
Ages: 3 - 8
Price: $39.99
Type: App, Game
By
Crayola
Description
Introducing Crayola Create and Play! - a Colorful Kids' subscription!

A fun, interactive, and educational subscription app for kids that provides a safe space to develop skills through imaginative and educational games all accessible on most digital devices through one paid subscription account. As a trusted leader in children's creative development and art education, Crayola offers an innovative kids' learning app that inspires self-expression, artistic independence, and inventive play. Each of the thoughtfully designed activities for kids, sparks their imaginations and helps develop beneficial skills, including coding, logic, dexterity, creative thinking, cause and effect, pet care, color theory, and many more. Plus, the Crayola app is regularly updated, keeping content fresh so that kids have an evergreen creative playground.

PLAY WITH A PURPOSE:

Inspired by STEAM and STEM education techniques, Crayola believes in experiential learning through play. That's why we let kids take the driver seat with independent creative play experiences.

EXCITING KIDS ACTIVITIES & MORE TO COME!

Games for kids age 3, 4, 5, 6, 7, 8

CREATE one-of-a-kind masterpieces in the Art Station. Color, draw, stamp, paint, and more!

CARE for imaginative creatures in the Pet Park. Design, nurture, and interact with animated pets.

EXPERIMENT, discover, and play in the Color Lab. Sort, match, mix, and delight in colors.

CHALLENGE high scores on a variety of games in the Arcade. Play, compete, and win!

LEARN and practice new skills in the Discovery Classroom. Try coding, get puzzled, and stay curious!

PARENTS AND KIDS AGREE

"The app engages my child with shapes and colors and she doesn't even realize it's educational." - Jenna, Mom of a 4 Year Old Girl

"I like the coloring, I like the creature, I like the robot, I like the games, I like the letters."- 5 Year Old Boy

"The app encourages originality and inspires creativity, you can't go wrong with that." - Khadine, Mom of a 4 Year Old Girl


Review Highlights:
One of my favorite kid's app ever! I don't even know where to start! We could choose from Art Station, Color Lab, Pet Park, and even an arcade. The app is so colorful and interactive. My son loved all of the choices. He is naturally creative so he was very engaged and talkative as he played with the app. We could choose from standard colors or stickers, or stamps, or patterned paint design as well. Once we were done we even put it in the gallery. He decided to hop over to the Pet Park and create an animal then paint and bathe. Somehow we ended up in a Fruit Ninja type game and that was fun too. In general, navigating the app is very intuitive, quick and responsive. It is so much better than other kids apps as it offers choice, creativity, exploration, and age-appropriate activity. This is the major selling point for me - the app is centered around self-expression, choice, and creativity, not a prefabricated format that offers little choice and based around meaningless narratives and storylines. I hope Crayola keeps producing more apps and digital games like Create and Play!
The graphics are amazing. There is potential for hours and hours of fun which allows for a subscription for a year--there really is that much fun to be had. There are rewards that get awarded after a few completed activities that allow a child to earn more accessories or a new animal to decorate and play with. Each animal can be put in a habitat in which there are several more activities to click. Each activity, game or challenge starts easy and gets harder so the game doesn't become too easy, too fast. But it's easy enough for any beginner and there are no "downer" sounds when you didn't do something right. There are all kinds of tools to color with (virtual Crayola dream-world!) from crayons, to paint brushes, to stamps and stickers and so many, many more. One of the best features is that anything your child creates gets saved in his/her gallery to view anytime he or she wants. A new picture or coloring page can even become a puzzle activity in another page. Boys and girls alike can have fun as there are countless ways to create in their own, personal way. There are videos that teach how Crayola makes their products. There are video game types of activities as well as educational games to help kids name shapes, colors and letters. This is a very cool app with so many creative things to do. My favorite was being able to take a selfie photo and put stickers on it and color it with all the myriad of choices. I also really liked the drawing on a blank piece of paper and the countless effects I could use to make something really spectacular. My kids also loved this app! This is well-named: create and play!
We loved all of the colors and activities! The app helps kids practice visual discrimination, eye hand coordination, creativity, analysis, coloring, decision making. It teaches creativity, identification of shapes, letters, and colors, patience, matching, tracing, problem solving.
Buy this product at:
As an Amazon Associate we earn from qualifying purchases.