Academics' Choice Award™ Winner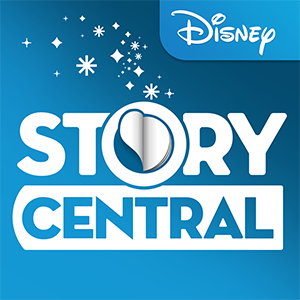 Disney Story Central
Ages: 4 and up
Price: Free with in app purchase or subscription
Type: Mobile App, Book, Website
By
Disney
Description
"Disney Story Central" is the largest collection of Disney digital stories, featuring a wide array of Disney stories and characters that kids and families know and love. The cross-platform experience is available via iPhone and iPad app, tablet-optimized website and Video on Demand (AT&T U-Verse). The program is designed to encourage kids to develop a lifetime love of reading and gives families the freedom to choose the experience that suits them best -- whether through an annual subscription service or a-la-carte, using Disney Book Tokens.

Features
• Customizable bookshelves for each member of the family with personalized reading recommendations.
• A "Browse By Character" carousel lets families easily find books starring their favorite character. spanning all Disney Franchises, including Disney Princess, Disney Classics, Frozen, Doc McStuffins, Cars, and more.
• Personalized book recommendations and character-driven navigation make it easy to find new books.
• Stars, Ranks, and Trophies reward kids for reading and encourage them to keep it up.
• A variety of content for pre-readers, speed readers, and everyone in-between.
• Accessible at home or on the go.
• Subscription The subscription service gives kids unlimited access to Disney Story Central's expansive library of books for $7.99 a month.

A La Carte
The Disney Book Token system helps parents empower their kids to pick out the books they WANT to read, allowing them to build their own collection of stories, featuring the characters they love.

Review Highlights:
Disney Story Central is a website and a free app that connects children to all their beloved Disney characters and stories. After creating an account, parents receive four tokens that they can use to access four free digital books. The 100+ books are not interactive but they do come with two great features: Read-to-Me and Auto Play. These features are excellent for busy parents, non-readers and children still learning how to read. The reader of the Read-to-Me feature was well paced, and each word was highlighted as it was read allowing the child to recognize words in context.
As a mother of four kids I loved that each child could have their own bookshelf. The personalized approach was well received by my kids. The app was easy to navigate, bright and colorful, and the ability to search by character was helpful as each of my kids have their favorites. They have multiple books for each character covering a wide variety of topics so their is plenty from which to choose. My kids, especially the oldest, were motivated by the tokens, badges and trophies to keep reading. The fact that the kids got to read on mom's iPad was also considered a treat. Anything digital and the kids get excited. The subscription model is a great value for us.
I appreciated that the books are clearly labeled with reading levels. The blue-bordered books are read-alouds for non-readers and the green-bordered books are designed for early readers. I also really liked that each book has a preview option that allows kids to gauge their interest by accessing four to five pages before purchase.
Buy this product at:
As an Amazon Associate we earn from qualifying purchases.