Academics' Choice Award™ Winner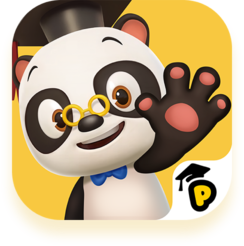 Dr. Panda Learn & Play
Ages: 0 - 5
Price: $3.99 monthly subscription or $29.99 for an annual subsription
Type: App, Game, Book
By
Dr. Panda
Description
Meet your new best buds Dr. Panda and Toto and set off on a one of a kind journey full of fun, learning and adventure!

Train your brain with Dr. Panda in 30+ fun activities. Get familiar with numbers and start counting from 1-10, grab your paint brush and color the day away, or show off your letter tracing skills and learn as you play in Dr. Panda and Toto's exciting world.

Choose from an awesome selection of games, storybooks and Dr. Panda TotoTime videos, it's all up to you!

Learn all about:
• NUMBERS: Start counting with simple math!
• LETTERS: Trace and spell more than 40 English words!
• PHONICS: Read and pronounce all 26 letters of the alphabet!
• COLORS: Get creative and experiment with different colors!
• SHAPES: How many shapes can you recognize?
• PROBLEM-SOLVING: Tease your little brain with matching exercises.
• COGNITIVE ABILITY: Show off your skills in spot the difference!
•And much more...

Features:
• More to learn, more to play, every month with exciting updates!
• Ideal for pre-schoolers
• Learn as you play with fun and educational games
• Read along with Toto using interactive storybooks
• Get exclusive access to the latest Dr. Panda TotoTime episodes
• No third-party advertising
• No in-app purchases for subscribers
• Come build with us and share your amazing ideas for new updates!


Review Highlights:
The app teaches matching, sequencing, numbers, letters, letter sounds, colors, reading, listening, comparing and contrasting, and more! Dr. Panda aims to develop the basic building blocks of early literacy, numbers, and child development. My little one loved just exploring. We went to the beach, made pizza, fed the elephant, and played with building blocks. She was very engaged for about 10 minutes and then wanted to get up and move around a bit. I'd definitely recommend this game for 4 year olds. My girl had fun!
It was very exploratory and fun. A good mix of fun, adventure and learning.
We liked how many different skills were introduced. This is a very interactive app that will keep your child busy for hours! We walked around Dr. Panda's house and explored the kitchen and family room. We read a book together about Temperature. What I liked is that my boy could tap on the word and it would light up and say the word. He was able to differentiate each word out of a sentence in the little book. So we did this for a while: just tapping the word and repeating it. It took us a long time just to get through the book! This app has a lot of different possibilities and we have just scratched the surface. Well done Dr. Panda!
Buy this product at:
As an Amazon Associate we earn from qualifying purchases.