Academics' Choice Award™ Winner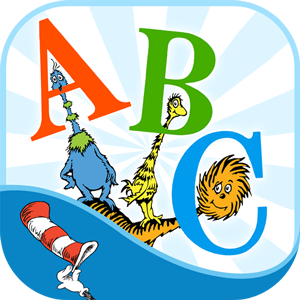 Dr. Seuss's ABC - Read & Learn
Ages: 2 - 5
Price: $3.99
Type: Mobile App, Book
By
Oceanhouse Media, Inc.
Description
The best-selling, classic book "Dr. Seuss's ABC" comes to life with playful interactivity, delightful animations and learning activities! From Aunt Annie riding an Alligator to the Zizzer-Zazzer-Zuzz, learning to read is an unforgettable adventure with Dr. Seuss!

FEATURES
- Tap the pictures to find playful surprises throughout the book
- Practice practice consonant sorting, uppercase and lowercase recognition, and more in new Learning Activities
- Read along with highlighting narration, read it yourself, or enjoy auto play
- Explore new vocabulary by tapping words and pictures
- Track minutes spent reading, pages read, and more in the Parents section

LEARNING ACTIVITIES
- Hidden stars on every page reveal fun Learning Activities
- Developed in collaboration with early literacy experts
- Designed specifically for beginning readers
- Aligned with kindergarten level English Language Arts (ELA) standards
- Enjoy activities again and again, right from the main menu!


Review Highlights:
My 5 year old loved this app. He was already familiar with the book so this made it even more cool for him. He seemed to like finding the star and getting quizzed. It was a bit long for him, but he got through it. This is a great learning tool for beginning readers working on beginning sounds. It's so great to match the word with an image too. Great app!
I really liked how descriptive and informative the narrator was in the app. My 5-year-old was able to begin exploring the app and wasn't lost at all. After the second page, she knew how to explore the characters, find the stars and play the upper case and lower case games. This book is a classic and this app did it no harm. The illustrations were perfect and characters were as zany as ever. My daughter knows her ABC's and felt comfortable with this app and how it presented and reviewed what she already knew.
Buy this product at:
As an Amazon Associate we earn from qualifying purchases.