Academics' Choice Award™ Winner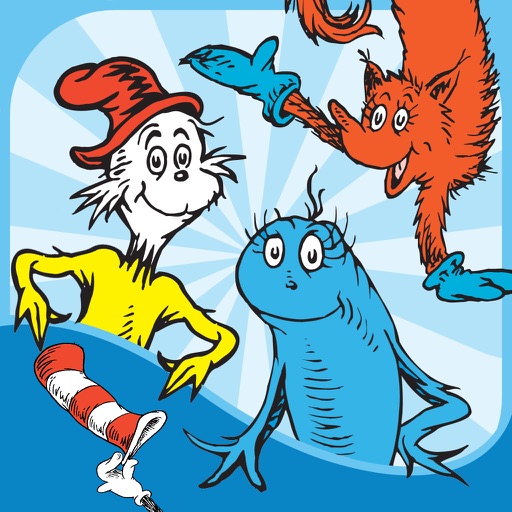 Dr. Seuss Deluxe Book App
Ages: 4 - 8
Price: $1.99 - $41.99
Type: Mobile App, Book
By
Oceanhouse Media
Description
Enjoy 17 of the most popular Dr. Seuss books in their most animated, interactive, and educational versions yet!

Features:
- 17 bestselling, animated, interactive Dr. Seuss Books
- One FREE book - Yertle the Turtle
- Educational activities on every page for young readers: Spelling, sorting, rhyming, phonics, puzzles, memory, word search, sequence, and more
- Sort books by Unlocked, Favorite, A to Z, or Grade level
- View your child's reading statistics
- Simple controls for young children to use
- Individual books will unlock based on previous individual app purchases
- These Deluxe Dr. Seuss books have been specifically designed for iPhone, iPad, and M1 Macs

Includes these best-selling Dr. Seuss books:
- Dr. Seuss's ABCs
- The Cat in the Hat
- The Cat in the Hat Comes Back
- The Foot Book
- Fox in Socks
- Green Eggs & Ham
- Hop on Pop
- Horton Hears a Who!
- The Lorax
- One Fish Two Fish Red Fish Blue Fish
- The Sneetches
- Mr. Brown Can Moo, Can You?
- Oh, the Places You'll Go!
- How the Grinch Stole Christmas!
- There's a Wocket in my Pocket!
- What Was I Scared of?
- Yertle the Turtle

A great tool for early readers, the Dr. Seuss Deluxe Books app features word highlighting and picture/word association techniques to strengthen the association between written words and pronunciation. The app also features fun animations and educational activities on every page, including spelling, sorting, rhyming, phonics, puzzles, memory, word search, sequence, and more.

Designed with simple controls for young children to use, children can choose three reading modes: "Read to Me," "Read it Myself," or "Auto Play." In addition, kids and parents alike can sort books by Unlocked, Favorite, A to Z, or Grade level (Kindergarten through Grade 3), and parents can view reading statistics.



Review Highlights:
The Dr. Seuss Deluxe app is perfect for children grades K-3. It is interactive, animated, and colorful - ideal for a young reader. The app offers parent controls for data around specific books read, hours on the app, pages turned, and words tapped. There are hidden surprises on every page for the child to look for, instigating the child to tap and explore both letters and images. I've taught 1st-3rd grade for many years and would have no problem installing this wonderful app onto my own child's device as well as suggesting it to other parents. Thank you, Oceanhouse Media, for keeping these classic books alive and well!
The expressive narration is top-notch and the moving images and interactivity on every page makes for an engaging experience that will help kids develop their reading skills. I particularly liked that the words are highlighted perfectly in time with the narrator to help improve whole word recognition and that kids can also tap on each word to hear them spoken. The sound effects and animations actually add to, rather than distract from, the story. I also appreciate the fact that there are no advertisements.
The app is a great addition to any parent's collection of learning apps. It is unique in that it has the Seuss library and interactive content on each "page" of the story. Each page has 15+ interactive components that can be clicked and moved within the page. It truly engages the reader in a different way of reading a familiar story. Parents can be assured that the Dr. Seuss stories are fun, appropriate, and familiar as kids play independently. Younger kids can enjoy being read to while older kids appreciate the choice to read themselves, be read to, or have a select word or two read aloud. The app is designed for kids ages pre-k through 3rd grade, or approximately 3-9 years. The app offers a great value for the entire library or can be a fun way to grow the library book by book (through in-app purchasing). The interface is easy to use and uncluttered. The read alouds are delightfully read by narrators that truly engage the listener. All objects and icons are interactive and the labels are spoken aloud as well as written across the screen.
The app allows children to practice reading accuracy, listen to fluent reading, hear rhymes, and learn new vocabulary. The interactive stars found on each page of a story practice skills such as phonics, auditory processing, visual memory, visual and auditory processing and auditory memory. The activities are fun and keep my child's interest for about an hour at a time and have been requested multiple times when other apps and learning tools are presented. I would love to see the complete Seuss collection expand to other authors that wrote under the Seuss library (I.e. Stop That Ball, A Fly Went By, etc). I would highly recommend this app for parents who enjoy knowing their children are engaging in learning activities when screen-time is earned.
Children practice letter identification, whole words practice, fluency, comprehension, vocabulary, letter sounds, rhyming, visual memory, and visual-spatial skills.
Find this product at:
As an Amazon Associate we earn from qualifying purchases.