Academics' Choice Award™ Winner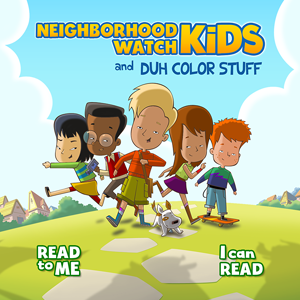 Duh Color Stuff
Ages: 7 - 11
Price: $4.99
Type: Mobile App, Book
By
Chameleon eBooks
Description
Neighborhood Watch Kids and Duh Color Stuff ™ is a 'choose your own adventure' reading experience for kids (age 7-11). The book app promotes educational added value content wrapped into an exciting interactive digital storybook. Recently launched on the App store, Google play and Amazon.

Neighborhood Watch Kids and Duh Color Stuff™ is an exciting adventure story in which five brave young kids and their pet dog set out to save their neighborhood. Join Arnold, Maya, Johnny, Suzie, Billy and Paw in their amazing journey to self-discovery. Help them overcome their differences, make the right choices and work together as a team to solve a series of mysterious events.

Featuring:
- 10 integrated mini games
- 16 decisions to make
- 21 story endings
- 280 total pages
- Original sound track


Review Highlights:
The digital storybook is engaging, colorful, interactive, and the animations are excellent. The reader get to choose how each story unfolds as they analyze clues and decide the path to take next in a choose your own adventture style book. The reader's choices affect the story line, which has 21 possible endings. It teaches kids to think critically, analyze and cooperate as a team.
This is a powerful app for young readers. The mystery adventure hooks the reader by allowing them to be a part of the plot. Children improve reading comprehension, decision making, investigative skills, analysis of multiple points of view, and much more. The reuse factor is also great due to the multiple pathways and story endings. The storybook also has powerful features such as narration, dialog between team members based on decisions, and interactive mini-games.
The diversity of the Neighborhood Watch Kids was great to see.
Buy this product at:
As an Amazon Associate we earn from qualifying purchases.