Academics' Choice Award™ Winner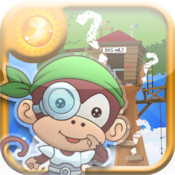 Fido's Treehouse Scavenger Hunt
Ages: 2 - 8
Price: $2.99
Type: App (iPad)
By
Pixel Interactive
Description
Fido's Treehouse Scavenger Hunt - a scavenger hunt styled game in iOS!

Two modes of play available for kids of different age:

FREE PLAY MODE
Explore the highly interactive environment. Wake the dog, water the plant, grow a flower, and sweep the floor!

CHALLENGE MODE
A scavenger hunt for the older kids. Challenge your child to solve all the puzzles and help Fido find his treasure!

Fido's Treehouse Scavenger Hunt is a great kids app designed for:
- independent play and learn
- learn by exploration
- inquisitive play and learn

You and your children will definitely bond over a session of Fido's Treehouse Scavenger Hunt!
Review Highlights:
We had lots of fun with this discovery based app. My child loves interactive, visual perceptual apps so this one was perfect for him. The riddles were a bit tough, like finding the "e" on the wall to complete the word, "apple." It was also a bit difficult to close the scroll once we opened it, but then figured it out. Besides that, the app is colorful, interactive, and fun. My 7-year-old boy has been exploring for an hour already!
Buy this product at:
As an Amazon Associate we earn from qualifying purchases.