Academics' Choice Award™ Winner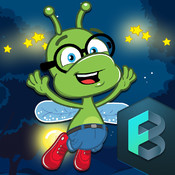 Fit Brains for Kids: Sparky's Adventures
Ages: 2 -8
Price: Free (in-app purchase available)
Type: App (iPad)
By
Vivity Labs Inc., a Rosetta Stone Company
Description
Fit Brains: Sparky's Adventures offers a first-of-its-kind approach to child learning and development. Available on iTunes, this app includes a library of 200+ fun & healthy brain games designed for children ages 2 to 8, and will stimulate the 5 key areas of your child's brain and automatically adapt to the specific learning needs of your child. Fit Brains: Sparky's Adventures is based on the original Fit Brains Trainer app, which has been highly successful, used and praised by people all over the world. Fit Brains: Sparky's Adventures is a highly comprehensive brain trainer for young children that brings education into playtime fun for your children.
Review Highlights:
Sparky's Adventure is packed with thinking skills! Everything from visual perceptual skills, sequencing, short term memory, matching, inference, visual discrimination, and comparing and contrasting. There is no doubt that the inventor of this app deeply values and understands the importance of these skills for early childhood development. The kids voice and the accompanying music were a perfect match for the visuals. The game was set up in a simple and organized manner, not to confuse the younger children with too many moving objects or excess visual or audio stimulation. My son loved this app and little does he know about the fantastic cognitive benefits of playing it! This app is light years away from the mind numbing apps such as Angry Birds and Tumble Run.
This app is top-of-the-line! It's easy for kids to get started and hard to put down. Children practice a variety of critical thinking skills including visual perception, concentration, evaluation, pattern recognition (sequencing), and analysis. The app challenges their memory and speed while encouraging them to continue playing with a fun rewards (building a playground). The program automatically adapts to challenge students based on their current skill level avoiding the problem of player frustration while building confidence and lifelong foundational skills at a time when their brains are most receptive. As a retired teacher and parent I highly recommend this app. The parent's corner makes it easy to monitor development and progress in relation to students of a similar age, which makes the statistics so much more valuable.
Buy this product at:
As an Amazon Associate we earn from qualifying purchases.