Academics' Choice Award™ Winner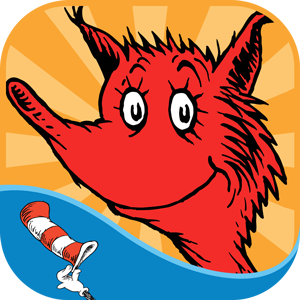 Fox in Socks - Read & Learn
Ages: 2 - 5
Price: $4.99
Type: Mobile App, Book
By
Oceanhouse Media, Inc.
Description
The best-selling Dr. Seuss classic "Fox in Socks" comes to life with playful interactivity, delightful animations and Learning Activities!

FEATURES
- Tap and drag to find playful surprises throughout the book
- Practice spelling, phonics, rhyming, and reading comprehension in Learning Activities
- Read along with highlighting narration, read it yourself, or enjoy auto play
- Explore new vocabulary by tapping words and pictures
- Track minutes spent reading, pages read, and more in the Parents section

LEARNING ACTIVITIES
- Hidden stars on every page reveal fun Learning Activities
- Developed in collaboration with early literacy experts
- Designed specifically for beginning readers
- Aligned with kindergarten level English Language Arts (ELA) standards
- Enjoy activities again and again, right from the main menu!



Review Highlights:
I loved that the app works in three different ways (highlighted words, read it yourself, and auto play). The three modes and first-rate narration make it perfect for varying age levels. My 3-year-old can listen to me struggle through the tongue twisting rhymes while my 5-year-old benefits from the auto play feature. Both my early readers benefit from the highlighed words and animations. Clicking the star icon on each page also launches fun games (Super Speller, Who's Who, Rhyme Time, etc.) that extend the learning. My kids really loved this app, and I loved that they were laughing while learning common sight words and new vocabulary. I highly recommend this app to all parents.
The narrator's enunciation was impeccable. My husband, on the otherhand, needs to practice.
This app is perfect for emergent readers. The story is a classic and the app makes it even better. The navigation is intuitive and the animations bring the story to life. Kids can learn to pronounce any word in the story by simply tapping on them. Plus, tapping on the images displays the names and pronounces them as well. These are great features that really extend the value of the app, both in terms of learning and longevity of use.
Buy this product at:
As an Amazon Associate we earn from qualifying purchases.