Academics' Choice Award™ Winner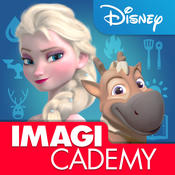 Frozen Early Science By Disney Imagicademy
Ages: 3 and up
Price: $6.99
Type: Mobile App
By
Disney
Description
"Frozen: Early Science," is an app grounded in early science principles, featuring favorite characters and stories from the award-winning animated film, Frozen. Designed for children ages 3 to 5, the app encourages learning by creating, making and experimenting.

"Frozen: Early Science" includes two worlds:
• "Cooking Creations" – Children are invited to help Oaken – owner of Wandering Oaken's Trading Post and Sauna – and Olaf prepare a variety of creative and delicious dishes for Queen Elsa. With more than 35 ingredients and various preparation tools to experiment with, children can follow basic recipes or create their own. Cooking play exposes children to principles of state changes when they add or subtract heat, causing substances to melt, freeze, or evaporate. The game also provides the opportunity to observe water in solid, gas and liquid forms.
• "Reindeer Care" – Children work alongside Kristoff, Anna and Sven as they groom, diagnose, and care for baby reindeer. Role-playing a reindeer care specialist, children learn to see and meet the basic needs of baby reindeer for food, water, hygiene and rest. By treating reindeer ailments and taking care of the reindeer calves, children can make connections to their own health and personal care. Using their powers of observation, children begin to generalize about what it takes to keep animals healthy and happy!

Review Highlights:
This is a very informative and interactive app. My daughter really enjoyed taking care of the reindeer! The app was pretty open as to what she could do. This left her time to explore and interact more than just play a game. The graphics are amazing. She also enjoyed serving food with Olaf. This is a great app for any young fan of Frozen!
I like the way Disney designed this app. It's exploratory, experiential, reinforces important science concepts and promotes creative thinking.
Buy this product at:
As an Amazon Associate we earn from qualifying purchases.