Academics' Choice Award™ Winner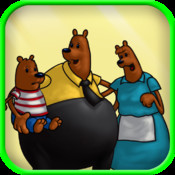 Goldilocks and the 3 Bears
Ages: 3 - 7
Price: Free
Type: Mobile App, Book
By
You Tell Me Stories, LLC
Description
Newest Reading Apps Boost Literacy with Scholarly Research, Ingenuity Plus Cuddling

Read Aloud eBooks by You TELL Me Stories teaches parents/teachers how to interact with emerging readers using features created by educators and literacy experts - because HOW and not just how often you read to a child makes a difference. You TELL Me Stories were created for children 3-7 years old to take advantage of the way children learn oral language. Reading time is transformed into a time for fully interactive conversations between adult and child. You TELL Me Stories entertain children with delightful artwork and engaging stories, while expanding vocabulary and building core literacy skills (aligned with the Pre-K and Kindergarten National Core Curriculum Standards) using our two exclusive features: 1) WordWinks - the words written in red italics that are embedded right into the story and are the commentaries, questions to ask, and vocabulary to paraphrase, and 2) Retell, Record & Share - an activity where a child puts 4 pictures from the story in order to retell the story, and then records his or her own version. You can instantly share the recording by email, allowing for teacher assessment and progressive evaluations, as well as entertaining a loved one. In addition, when you purchase any You Tell Me Stories eBook and register in the app, you receive a FREE Activity Book for that title by email. Some of the activities included are coloring to develop fine motor skills, story dictation to promote print concepts, and assorted activities that build phonological awareness ľa great resource for both parents and teachers!

There are 3 menu options. Parents can use the Listen with Wordwinks as a model of how to read aloud, and teachers can use the Listen with WordWinks feature for independent listening comprehension activities. The Read with WordWinks gives parents the prompts (commentaries, questions, paraphrased vocabulary) to read to their child and teachers can use for adult directed read aloud activities. The Retell Record and Share can be used in a small group setting or as an individualized, one on one lesson in the classroom or parents can delight in hearing their child record their own voice as they retell the story. The retell part of Retell, Record and Share gives teachers/parents the opportunity to provide a child with practice in storytelling. This is so important for young children. It allows them the chance to learn and practice new vocabulary, to put ideas in order so they make sense, identify important details and build memory, all in a fun and rewarding way! These are such critical skills for becoming a successful communicator and for building solid foundations for reading comprehension. Retell, Record and Share helps you help a child build powerful language skills - listening and speaking, which will grow into reading and writing. You TELL Me Stories, Oscar Goes to the Zoo is available on the iPhone, iPad, and iPod touch. All You TELL Me Stories are reviewed and approved by our Educational Advisory Board which can be accessed on our website at www.youtellmestories.com. Because oral language is the foundation for literacy, You TELL Me Stories were created.
Review Highlights:
We liked how the emphasis was on HOW you read to your child, not necessarily WHAT you read to your child. Although content is important, the approach and presentation of the content is key. My child enjoyed the app.
The Retell, Record and Share feature gives children the opportunity to practice their storytelling skills--an often overlooked and essential activity after reading with a child. Retelling and summarizing a story builds important skills such as recall/memory, clarity of thought and delivery, sequencing, speaking skills, vocabulary, and analysis. It's also a confidence building activity that gives children valuable presentation skills. Combined with the WordWinks feature this app streamlines the parent's role making it easier and arguably more effective. The ability to share the retold story not only adds to the fun but it makes children more enthused and focused on delivering a well thought out recapitulation.
Buy this product at:
As an Amazon Associate we earn from qualifying purchases.