Academics' Choice Award™ Winner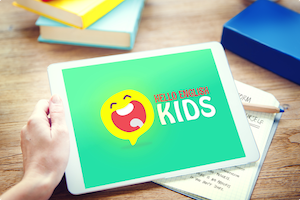 Hello English Kids
Ages: 1.5 - 7
Price: Freemium (Pro version: USD $29.99/year)
Type: App, Game
By
Intap Labs Pvt Ltd.
Description
Hello English Kids, is a platform where kids explore, learn, create and interact with digital games in a whole new way. Created by the makers of the award-winning Hello English platform, with over 50 million users and accolades like 'Google's Editor's Choice award 2018, 2017', United Nations award for transforming India, India's Best Mobile App, Google's Best Apps of 2016 etc.

Designed for kids aged 1.5-7 years, Hello English Kids is a breakthrough educational mobile App that addresses all the English learning needs of young learners in a fun and safe environment. It comprises of 1000s of age-appropriate interactive learning activities and educational games on spoken English, grammar, vocabulary, reading, writing, speaking and listening comprehension.

The curriculum is benchmarked against global standards such as the common core and IB guidelines and has been co-created with the help of experts in linguistics, early learning, child psychologists, counsellors and teachers.

The app also leverages art, story-telling and rhymes for holistic skill development. It has seamlessly integrated concepts into games, helping kids have maximum fun while learning and giving an immersive experience to keep high engagement and retention rate.

Powered with advanced speech recognition, Hello English Kids helps children learn the basics of spoken English - the kids can speak into the App and talk to these friendly characters to hone their speaking skills, social confidence, pronunciation etc.

Using spaced memorization and adaptive learning techniques, powered by the app's advanced AI technology, the app automatically recommends activities for the skills the child needs to focus most on and paces itself to the child's learning level and speed. This creates a personalized journey for each kid, with personalized revision recommendations and skill maps.

With no ads and certified with kidSAFE seal, the app offers an ad-free, and kid-safe learning environment.

Parents can control how a child uses the app, set screen-time with timer control and stay updated with their child's progress. The detailed progress report keeps a track of their child's progress mapped against core skills such as reading, writing, speaking, listening, grammar and vocabulary with detailed analysis of memory and skill score on words, concepts, phrases etc.

Our pedagogy has been scientifically proven to improve learning efficiency by 3.7 times by independent researchers from the City University, New York & the University of South Carolina, USA.


Review Highlights:
Hello English Kids is a great app to develop english vocabulary, listening, writing and comprehension. It offers many activities, songs, and age-appropriate videos. It has an area for adults to change settings and check progress. We enjoyed playing I-Spy and doing letter identification activities. Although this app is like many others on the market, it is a solid educational app that will help your child develop early literacy skills.
This is a great app for kids to learn better English. We listened to lots of words and repeated. We worked on the alphabet and played games. My wife and I were thrilled that we could let our child play alone with no ads. We set the timer for 25 minutes. Great and fun educational app for children!
We liked the format, the voices, and I liked the timer and the fact there were no ads.
It's a simple design, easy to navigate, and full of immersive, effective activities that teach English, grammar, vocabulary, reading, numbers, letters, pronunciation, and writing.
Buy this product at:
As an Amazon Associate we earn from qualifying purchases.