Academics' Choice Award™ Winner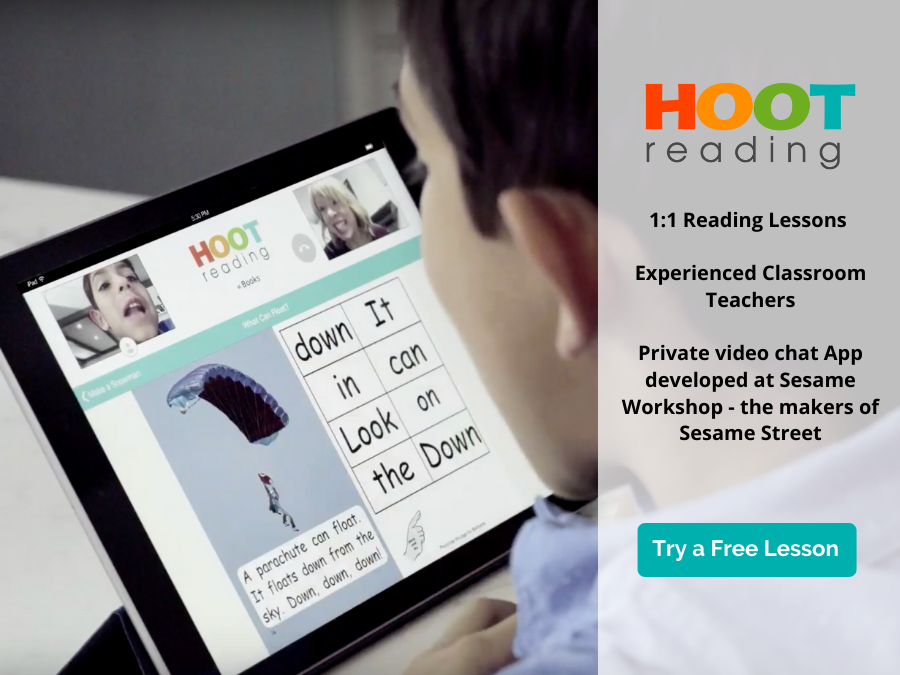 Hoot Reading 1:1 Online Guided Reading Lessons
Ages: 4 - 12
Price: $180 for 8 lessons monthly
(Try a FREE lesson!)
Type: Mobile App, Website, Book
By
Hoot Reading
Description
Hoot Reading is an online learning solution providing live, 1:1 reading lessons with experienced classroom teachers for children Pre-K to Grade 8. Hoot Reading is research-based and was incubated at Sesame Workshop (by Sesame Street). Lessons are customized to your child's unique needs and take place anywhere your child has access to the internet and a computer or tablet.

The online literary service connects kids with experienced classroom teachers to practice reading, math, French, and Spanish over a proprietary video chat App. Hoot Reading is perfect for kids in Pre-K to Gr. 8, and struggling readers of all ages. Through the use of personalized and engaging lessons, and a carefully curated library of high-quality levelled texts, Hoot Reading aims to help as many kids as possible learn to read and close the gap on the 4th grade reading slump.



Review Highlights:
Hoot Reading is the perfect service for times like these. There are millions of children who will need extra reading practice and this platform is ideal. The screen looks simple enough for a child to use and is the next best thing to having the teacher right next to you. We worked on early reading and fluency.
The Hoot Reading video chat service checks all the boxes and more. Students are paired with certified reading specialists/degreed teachers for lessons using a cross-platform compatible innovative proprietary video chat app. They offer more than just reading lessons. Students can get extra help with math, French, and Spanish too! They have designed clever lessons specifically for video conference learning including reading and math assessments and they offer a wide variety of books from various publishers including Flying Start Books, Orca, and Lerner with both fiction and non-fiction, and high interest/low reading level titles. The platform also offers helpful teacher features such as zoom and screen lock that keeps children focused, engaged, and learning. The team at Hoot Reading does a good job of keeping students with the same teacher throughout their sessions to improve rapport and lesson effectiveness, which is not often the case with other online services. We highly recommend Hoot Reading.
Hoot Reading is the answer to today's homeschooling problem! We were forced to teach our kids at home because of the pandemic and it has been tough! Hoot will make parents of beginning readers much more comfortable during these times. It is crucial that early readers read daily with a qualified teacher and now that's a possibility. The certified teachers at Hoot know how to engage and help budding readers reach fluency. We particularly liked that the teacher is always the same. The consistency allowed rapport and trust to be developed, which is important when learning and building reading confidence. Thank you, Hoot!
We worked on early reading and fluency. We liked the teacher and how easy it was to connect.
Hoot Reading is an exceptional app / website that allows students PreK-grade 8 the ability to practice reading skills online with a teacher.
I like that Hoot Reading is a one-on-one tutoring service to help children learn to read. If you have a busy life, some children may struggle with reading if their parents aren't able to help them or read to them at night. There is definitely value in the practice, and I think children respond better when they can focus if it's just them and a teacher. The app is easy to use, the lessons are short (20 minutes), and you can schedule the lessons to fit your schedule.
I like the idea of the product. Reading skills definitely predict future success, and additional reading practice can only help a student achieve more in the future. Also, having a child read with a teacher can be more beneficial than reading with a parent. A teacher can help to correct and instruct to improve fluency-most likely better than a parent.
Try a free lesson:
As an Amazon Associate we earn from qualifying purchases.