Academics' Choice Award™ Winner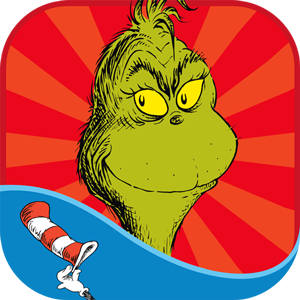 How the Grinch Stole Christmas! - Read & Play - Dr. Seuss
Ages: 2 - 6
Price: $3.99
Type: Mobile App, Book
By
Oceanhouse Media, Inc.
Description
The best-selling, Dr. Seuss classic "How the Grinch Stole Christmas!" comes to life with playful interactivity, delightful animations and fun activities!

FEATURES
- Tap and drag to find playful surprises throughout the book
- Find hidden stars on every page to reveal fun Activities
- Read along with highlighting narration, read it yourself, or enjoy auto play
- Explore new vocabulary by tapping words and pictures
- Track minutes spent reading, pages read, and more in the Parents section

ACTIVITIES
- Play seven different mini-games like Memory Match, Jigsaw Puzzle, Word Search, Sequence, and more!
- Find all 28 unique games hidden throughout the book
- Enjoy activities again and again, directly from the main menu
- Try to beat your high score and best time


Review Highlights:
We loved how the Grinch's face changed and he made funny laughing sounds on the first screen of the app! The story was filled with great animation and super fun interactive play. My kids really enjoy the story but even enjoyed it more because they could move the Grinch around the story settings! I thought the star games were great. The Simon like sequencing game and the word search was very creative. We give this app two thumbs up!
My daughter really liked this app. She played it for hours, exploring all of the screens. She was a bit unsure about the Grinch story at first but ended up really liking it. It was almost like she was controlling her own cartoon. I liked how you could click on any of the words and they'd immediately be said by the narrator.
Buy this product at:
As an Amazon Associate we earn from qualifying purchases.