Academics' Choice Award™ Winner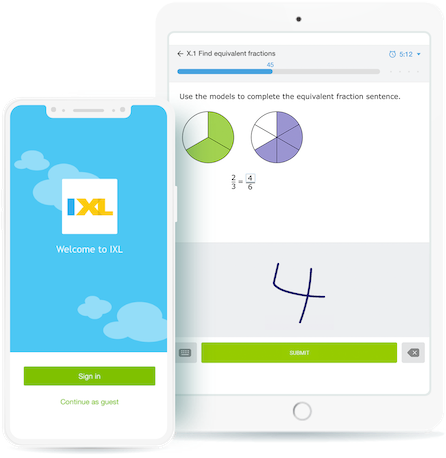 IXL app
Ages: 4 and up
Price: Free (In-App Purchases)
Type: App
By
IXL Learning
Description
Downloaded over 23 million times, the IXL mobile app allows students to practice thousands of skills anytime, anywhere. Featuring IXL's complete curriculum of more than 8,000 skills in math, English language arts, science, social studies, and Spanish, the IXL app is tailor-made for tablets and phones and offers a fun, immersive experience for K-12 learners.

Visuals and functionality crafted for mobile devices make learning more intuitive—the scratchpad feature lets students work out problems on the screen, while handwriting recognition allows students to write in answers to math questions with their fingers. The IXL app features interactive problems, from drag-and-drop to graphing and more, that help students engage with material in new ways. The app also provides text-to-speech audio to support early learners and English language learners, and syncs progress across all devices, ensuring users are able to continue learning where they left off. Additionally, students can use the iPad and iPhone apps to access custom-made skill plans aligned to their school textbooks to continue learning outside the classroom.

As students practice, the app keeps them motivated to learn with fun, virtual awards and a real-time progress bar that shows how close they are to achieving their next milestone. IXL's Recommendations wall is available on the iPad and Android app, providing children with personalized skill suggestions based on their work. Additionally, IXL's Real-Time Diagnostic is now available within the iPad app, which helps learners discover the most relevant skills to practice.

The IXL app is available across all major mobile devices including iPhone, iPad, Android tablets and phones, Kindles and Chromebooks, making personalized learning accessible to all students on the go.


Review Highlights:
IXL works with students to create an individualized experience based on their progress with their skills. With thousands of skills available to practice at their fingertips, students can master math, English language arts, science, social studies, and Spanish from preschool to twelfth grade. This app works with it's user, adapting to each child's needs based on their academic levels. As a student myself, I appreciate how IXL doesn't just give an answer and move on; this app explains each answer so students can actually learn where they went wrong and understand the material which is such an important feature in one's learning experience.
I used IXL many years ago and they have upped their game since then, not only with new subjects (science, social studies, and Spanish), but with helpful new features. The handwriting recognitiion feature is awesome. Students can answer relatively complex math questions by simply writing on the screen with their fingers - even fractions and algebraic expressions are recognized! The scratchpad is also a very helpful feature with such a high-stakes adaptive system. Students can work out the answer without actually submitting anything.
IXL is designed for students to achieve mastery. Your smart score increases little by little, but if you get an answer wrong, it drops substantially. This adaptive approach angers some students, but it really helps students understand the subject matter as they are forced to answer more questions on the topic to build up their score. The questions aren't repeated and they get harder as you go so it requires grit and concentration. Granted, sometimes we click the wrong thing and get penalized, but with IXL you quickly learn to focus 100% as a result. The best part about the IXL app is that when you answer incorrectly, it shows the correct answer, and then goes on to explain the rule/principle behind the correct answer. Not only does it help you figure out what you did wrong, it also gives you tips and reminders for the next problem. With the IXL app you can't fake it and move on to the next skill/concept. The mastery oriented approach combined with the possibility of a drastic reduction in score means deep learning is happening, which is probably why this app has been downloaded 23 million times. It works and it's effective.
I love that the app shows you why the answer is wrong and offers a detailed explanation on how to get to the correct answer (helpful even for me!). In just a few weeks I've already seen improvement. My children are grasping new concepts faster and their math and language arts grades have all improved.
Buy this product at:
As an Amazon Associate we earn from qualifying purchases.