Academics' Choice Award™ Winner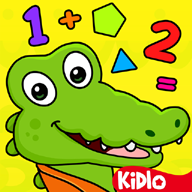 Kindergarten Kids Math Games
Ages: 2 - 5
Price: Free (In-App Purchases)
Type: Mobile App, Game
By
IDZ Digital Private Limited
Description
Kindergarten Kids Math Games is a comprehensive math learning program for kids in pre-k and kindergarten. Filled with exciting games and interactive songs, it teaches the essential math concepts in the most exciting way.

There are 180+ math games and activities in the app. All the content is based on the curriculum followed and recommended by experts and teachers worldwide. Kids can learn basic math concepts which will prepare them for school.

Basic math concepts included:
1) Number Sense: Learn numbers by playing fun games such as shooting, popping, join the dots, coloring and more.
2) Geometry: Learn about basic shapes with puzzle games, matching games, and other activities.
3) Sorting & Categorizing: Learn to sort and categorize by colors, shapes, animals, birds, vehicles, fruits.
4) Counting: Count candies, balloons, eggs, fruits! Includes a fun Santa game too.
5) Comparison: Compare objects based on their properties such as long, short, big, small, heavy, light.
6) Patterns: Learn to identify different patterns with fun games and activities.
7) Addition: Simple adding games to play!
8) Subtraction: Learn to subtract with Monsters.

Designed with funny characters and great visuals, this is an interesting way to practice math. Learning math is so much more fun with this app!


Review Highlights:
One of the best math apps out there for kinders! I have experience teaching k-2 math and this app is perfect. From the upbeat music to the characters and more importantly to the content and thinking skills - I just love this app.
What I like most about Kindergarten Kids Math Games are the thinking skills involved. I like how kids can choose to do comparisons, patterns, and sorting as well as number identification, addition, and subtraction. Also, as a parent, I know the game is safe and all is child-centered and age appropriate.
This is a fantastic math app for kindergarteners!
Buy this product at:
As an Amazon Associate we earn from qualifying purchases.