Academics' Choice Award™ Winner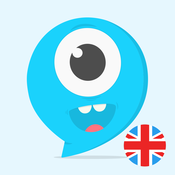 Lingokids
Ages: 2 - 6
Price: $9.99
Type: Mobile App
By
Monkimun
Description
Lingokids is an effective English learning course for kids aged 2-6 - now featuring content from Oxford University Press.

Encourage and help your child get on the fast track to literacy!

Children from ages 2 to 6 will discover thousands of fun and exciting activities where they will learn over 3,000 words such as everyday vocabulary, commonly used verbs, and adjectives.

Lingokids offers a high-quality school readiness English program where learning happens naturally in a safe** environment!

KEY FEATURES
- Includes content from Oxford University Press.
- Designed by teachers and experts in language learning.
- Offline mode to learn on the go!
- No prior English knowledge is necessary :)
- Weekly reports for parents.
- More than 3,000 words to learn!
- 100% Kidís Safe: **Following COPPA (Children's Online Privacy Protection) regulations.
- Designed specifically for preschoolers and young children (2 to 6 years old).
- Adaptive learning system adjusts the level of difficulty, creating personalized lessons and a unique learning experience for each child.
- Includes printable supplementary material to help parents and teachers.

SCIENTIFIC SUPPORT
It's scientifically proven that a child's brain is especially apt to learn different languages before a cognitive process called "neuronal pruning" begins in later childhood. The more a child is exposed to various languages, the more easily they can become bilingual. With our platform children learn without realizing it, thanks to our playful and fun approach.

Recent studies show that with Lingokids, children learn twice as much vocabulary than with the traditional method used in languages classes (and have more fun, too!).


Review Highlights:
Lingokids is a great app for the self-directed, engaged child that loves to explore. It is filled with up to 3000 words that identify particular objects or ideas. The content of the app is set up on a simple platform that any 2-6 year old will enjoy. The cow in the kitchen was our favorite. You can cook a carrot for Kelly and feed it to her. She'll then spit it out all over the screen! The user can also use a microwave. As soon as your child looses interest, you can turn the back button, and choose a new character to play with. Again, this is a basic app for 2-6-year-olds but very effective in its approach to teaching language to youngsters.
My boy really enjoyed this app. It was fun and interactive. He was able to click around and have objects identified for him.
Buy this product at:
As an Amazon Associate we earn from qualifying purchases.