Academics' Choice Award™ Winner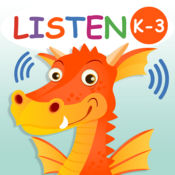 Listening Power Grades K-3 HD
Ages: 5 - 10
Price: $19.99
Type: Mobile App
By
Hamaguchi Apps for Speech, Language & Auditory Development
Description
Designed by Patti Hamaguchi, a licensed speech-language pathologist, Listening Power Grades K-3 HD is perfect for children at a language age of 5 through 10 or any child learning English. Does your child need practice listening or working on receptive language concepts? Is auditory processing of language concepts difficult? Listening Power K-3 was designed for children with delayed language comprehension, AD/HD, weak listening or auditory processing, autism, and English language learners but ANY child can enjoy these fun activities to strengthen listening! There are 5 activities included on this app, with 3 levels of play. They include: Listening for Meaning, Description, Grammar, Word Memory, and Story Comprehension.


Review Highlights:
I loved how customizable the app is. Not only can you use it for a single student but you can also use it for a specified group. Within the app it is customizable by age/level as well as other custom options such as with/without text, score, background noise, etc. I also liked that you could print and e-mail data reports.
I really liked everything about this app. This was an app we really needed and never knew about. Absolutely fantastic!
Buy this product at:
As an Amazon Associate we earn from qualifying purchases.