Academics' Choice Award™ Winner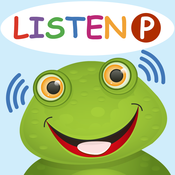 Listening Power Preschool HD
Ages: 3 - 6
Price: $19.99
Type: Mobile App
By
Hamaguchi Apps for Speech, Language & Auditory Development
Description
This colorful, animated app was developed by a speech-language pathologist as a fun way to practice essential listening skills! There are over 1200 listening tasks on this app!

There are 5 activities in the app:

Listening for Descriptions: Adjectives such as colors, big/little, happy/sad, clean/dirty, hold/cold, stripes, spots, soft/hard, round, square and more!

Listening for Directions: Concepts such as on, in, out, on, out, up, down, behind, line up, sit down, stop, underline, cross out, underline, and more!

Listening for Grammar & Meaning: plurals, verb tenses, pronouns, preposition concepts, and negation!

Listening for Stories with Pictures: A story is read with accompanying pictures and sound effects, followed by questions about the story such as who, what, and where questions.

Listening for Stories without Pictures: This activity is essentially the same as above, except the child is not shown pictures during the story. The child must stay focused and imagine the story, then answer simple questions about the story. An animation after the story shows some aspect of the story.

Features include: Easy, Intermediate and Advanced levels within each activity. Auto Advance/Drop makes the questions easier or more challenging, depending on your child's choices; Bubble game included for a fun break; data collection, pop-up reward animations, individual and group play for up to 75 users; text on/off feature available to work on reading decoding and comprehension, options for 2, 3 or 4 choices to be shown.

Check out our YouTube video to learn more about this app: https://www.youtube.com/watch?v=bbYETM68xO0


Review Highlights:
Listening and auditory skills were the main focus and purpose for this preschool app. I enjoyed the ease of use, pleasing photos and colors, and creativeness of the app.
My son enjoyed the stories and he liked that it has multiple levels, so when he did well at one level he could challenge himself further.
The stories are age appropriate and had a nice pace. Our preschool testers didn't even know they were being tested for comprehension of the main story points as they considered it a game.
The variety of games within the apps allowed for a nice progression of learning taking place. The amount of content covered easily justifies the price.
The Setting options were very well-thought-out. Being able to set the number of choices and the difficulty level really makes the app useful for both advanced and struggling learners. The way difficulty is decreased automatically is also a smart feature, as well the choice of the auto-advance or manual advance feature. Even more impressive is the manual show choice feature, which allows kids to say the answer before the choices are shown. This increases the challenge and adds an extra layer of learning.
The tracking ability is excellent – great for classroom teachers! We loved the way missed answers were clearly marked and showed exactly what was missed.
Buy this product at:
As an Amazon Associate we earn from qualifying purchases.