Academics' Choice Award™ Winner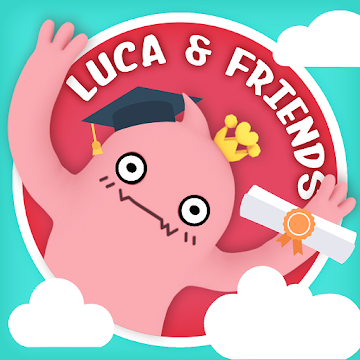 Luca & Friends
Ages: 4 - 8
Price: $14.99 monthly; or $99.99 annually with a one-month free trial
Type: Mobile App
By
GOFA INTERNATIONAL, creator of Luca & Friends
Description
Luca & Friends is the first app in the U.S. to combine learning and fitness via cutting-edge AI motion technology. Designed for kids ages 4-8, the app provides an interactive learning experience in which players play games by moving to select the right answers. Using basic movements and following simple directions, players might stretch or jump in order to "touch" or "catch" the right answers helping them build strength, endurance, coordination and flexibility while practicing English and Science, Technology, Engineering and Math (STEM) skills. Features of Luca & Friends include:

• Educational Content - Luca & Friends offers more than 100 lessons and activities covering English and STEM topics.
• Rewards - Luca & Friends offers loyalty and reward programs to motivate kids to stay active
• Parent Dashboard - The Parent Dashboard shows parents the play history for their child and allows them to track their child's progress. NOTE: this feature is in beta version, a more detailed web-based dashboard will be available in April.
• Playback Mode - The app collects a short video of the player so they can see themselves move during gameplay.
• Multiple Display Options - While the app is recommended for iPad and tablet use, players can also connect their device to a large-format smart TV through AirPlay or Chromecast and play in front of the larger screen.

Luca & Friends is currently available for iPhone and Android devices via Google Play and the Apple App store.



Review Highlights:
My five year old loves Luca & Friends and so do I! Perfect for parents that are looking for ways to keep their kids active, even through online learning or a rainy day. All you need is an area to prop your phone on and some space for your kids to move around in the house. This keeps my son on his toes (literally) and get some energy out. I love that while he's staying active and practicing his balance and coordination skills, he's also getting math and grammar practice in there too. This app does both.
Whether you're an educator or a parent, Luca & Friends is approved by both. Why? It contains three categories - Fitness, STEM, and English that keep children both physically active and mentally stimulated. Children learn how to problem-solve as they move with Mr. Luca and his silly friends that guide them through every level.
Amazing app that gets children excited about exercising (while learning)!
Children practice coordination, balance, and flexibility while learning grammar, vocabulary, math, and science skills.
Find this product at:
As an Amazon Associate we earn from qualifying purchases.