Academics' Choice Award™ Winner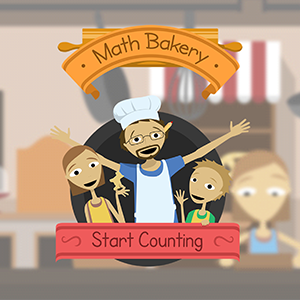 Math Bakery 1 - Start Counting
Ages: 4 - 8
Price: $2.99
Type: Mobile App, Game
By
Pi Education
Description
Math Bakery 1 - Start Counting help kids improve their beginning addition and subtraction skills with hands-on, concrete experiences that are designed for young children. Developers are correct when they proudly say, "It's just like having your own private teacher helping, encouraging and correcting."
- Best apps for kids

Math Bakery 1 - Start Counting features an easy-to-use, intuitive interface perfect for preschoolers and other young children. Activities use a drag-and-drop interface, followed by number selection to answer the questions. The addition of a number line that matches up with the rows of cookies provides a great way for kids to double check their counting skills. The app can accommodate up to three separate users, and keeps records of their play performance. This is ideal for situations where an adult cannot watch what a player is doing, and makes the system very useful in educational settings in particular.

Features include:
- 6 games for addition and 6 for subtraction
- Intuitive interface that is easy for young children
- Foundational instruction in grouping by tens
- Interactive and engaging
- Easy to follow tutorials and help
- A "duel" mode that pits players against one another (or against parents or teachers) in friendly competition.

"TWA was thrilled to see how fast-paced this game can be for those children farther along with their math facts and how easily it is to adapt to a slower speed for the child new or struggling with the concepts. The addition of a Duel feature is an ingenious bonus to engage kids in friendly competition with either siblings, friends, parents or teachers. Of course, what would a contest be without rewards and the inclusion of a trophy? Prizes are available in the duel mode as well as in the single-player mode. Prizes can also be accumulated on the screen by collecting a variety of different items on each level."
- Teachers With Apps


Review Highlights:
Math Bakery helps young children learn addition and subtraction skills in an entertaining manner. The graphics are colorful and unique. It represents problems in a concrete way as children move cookies to answer the problems. It also helps children develop strategies such as learning the "tens friends" and doubles.
Math Bakery helps children develop effective strategies at their own pace in an entertaining manner.
The app is intuitive, easy to use, and most importantly - effectively teaches addition and subtraction skills. The "duel" competitive mode is also a fun feature that my students enjoyed.
Buy this product at:
As an Amazon Associate we earn from qualifying purchases.