Academics' Choice Award™ Winner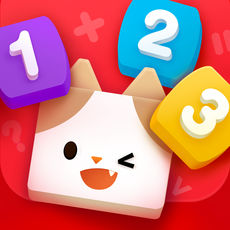 MiaoKids Wonder Math
Ages: 3 - 6
Price: Free
Type: Mobile App, Game
By
MiaoKids / Beijing Xiaohai Learn & Play Co. Ltd.
Description
MiaoKids Wonder Math, an application in the MiaoKids ecosystem, is designed for use with the MiaoKids Smart Kit to assist young learners in developing foundational academic skills through an open world of play-based learning. Although many of the Wonder Math games may be played without the Wonder Pad (the main hardware component of the MiaoKids Smart Kit), its functionality is fully marshaled in tandem with the Smart Kit.

Designed for use at home, in the classroom, or on the go, MiaoKids Wonder Math endeavors to incorporate Professor Howard Gardner's (Harvard Graduate School of Education) theory of multiple intelligences and allow students to particularly incorporate and draw on their bodily-kinesthetic intelligence more than many screen-based modalities can currently accommodate. MiaoKids Wonder Math is intended to utilize this model while forging many of the intelligences traditionally addressed in the classroom. This versatile approach is valuable for a broad spectrum of learners and provides visual-physical stimulation that is important at early ages and can be of special value to students with learning disabilities.

MiaoKids Wonder Math contains numerous attractive features for children and parents/educators alike. ChiChi, the signature MiaoKids cat character that permeates many of its games, is the face of Wonder Math. Additionally, learners are given the option of using their photo as the face for the avatar that has interaction with ChiChi and the vibrant MiaoKids world.

From the parent/educator perspective, parental controls and guidance are available. Level-adjusted Wonder Math games also aid parents and educators in identifying age-appropriate challenges, and time controls can be managed in settings to assist in placing healthy parameters on child screen time.

When coupled with the MiaoKids Smart Kit, Wonder Math manages to marry traditional toys, the Internet of Things, and mobile games, which ultimately creates an easily understood user interface. Both Wonder Math and the Smart Kit support the following: (1) Apple: iOS 8 and above; iPad (excluding iPad 1, iPad 2, and iPad Mini 1); iPhone 5 and above; (2) Android: phones, tablets, and computers using above Android 6 (all equipment needed to support Bluetooth 4); and (3) Smart TV: supporting Bluetooth 4.0 or TV set-top boxes with Bluetooth function (Millet, Skyworth, Hisense).

MiaoKids Wonder Math is designed to create a better learning world by enhancing the integration of multiple intelligences and facilitating physical interaction with electronic learning support. Unlike many products that are exclusively housed in an application or exclusively in the form of physical toys, Wonder Math—especially when contextualized within the larger MiaoKids ecosystem, enables engagement between those two (electronic and physical) worlds. MiaoKids believes there are no precise parallels to the MiaoKids ecosystem in the EdTech marketplace and is eager to share its learning experience with young learners worldwide.


Review Highlights:
The colorful activities are engaging, teach basic math and logic, and develop spatial, verbal, motor, visual, and analytical thinking skills. The lovable characters and animations captivated my child and motivated him to continue. And the fact that he was moving, turning, twisting and bending while figuring out what object to select and where to place it definitely made it feel more like play time then school work.
The MiaoKids Wonder Math app teaches math concepts such as number recognition and counting and can be played independently of the MiaoKids Smart Kit, but when used with the Wonder Pad (the device that recognizes the physical objects) the depth of learning increases substantially. The approach helps students turn abstract thoughts into physical, concrete examples, and makes for a memorable learning experience.
I liked the variety of games to play. There are many levels so this game can grow with your child. The app will track your child's progress on the games, too. I like to check in to see what has been completed and how they are doing each time they play. I also like that they have a very sturdy container to hold all of the pieces you need to complete each activity.
Buy this product at:
As an Amazon Associate we earn from qualifying purchases.