Academics' Choice Award™ Winner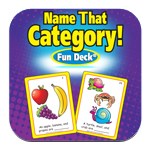 Name That Category! Fun Deck Mobile App
Ages: 5 - 11
Price: $5.99
Type: Mobile App
By
Super Duper Publications
Description
Name That Category! App, for ages 5 to 11 (grades K to 5), helps children practice useful describing, categorizing, and organizational skills. Children place each set of three items into a logical category with prompts such as, "A horse, cow, and pig are ___?" "A truck, doll, and ball are___?" and "A nickel, penny, and quarter are___?"
Select all 56 cards or just the ones you want students to see.
Enter all your students' names.
Track correct and incorrect responses for up to five players at a time (Android™ tracks unlimited players).
Email your results at the end of each game.
(Note: The App resets all data to zero at the start of each new game, so at the end of a game, email yourself any data you want to keep.)
Review Highlights:
Name That Category! provided a fun and positive way to develop my son's compare/contrast and grouping skills. The simple, yet highly effective app made travel time a breeze filled with reflective thinking.
As a special needs educator I found the mobile app a clever way to introduce students to analogous and associative reasoning skills. The students responded well to the new use of technology and paid more attention due to the medium on which it was delivered. The score tracking aspect was very helpful.
Buy this product at:
As an Amazon Associate we earn from qualifying purchases.