Academics' Choice Award™ Winner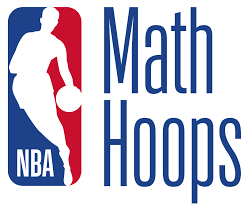 NBA Math Hoops
Ages: 8 - 12
Price: Free
Type: Mobile App, Game
By
Learn Fresh
Description
NBA Math Hoops is a fun math game for kids, focused on building math fluency and data analysis skills while running a fantasy basketball team. Sign up today to start your own squad filled with NBA and WNBA stars, and keep playing every week to unlock new players for your team.

Real-time NBA and WNBA stats are directly integrated into the game, helping you keep the best players on the court at all times. As you play, you'll be able to modify your lineup to take advantage of changing stats and performance in the actual league!

Review Highlights:
NBA Math Hoops takes what can often be a stressful subject for kids, and turns it into something positive and exciting! That can be hard to do with this subject. Kids can create their own NBA fantasy team and practice their math skills as they play along. As they progress, they can unlock different NBA and WNBA stars to play on their teams. This one changes the game when it comes to math!
I am a tutor for children and before I found this game, a few of my students, while excelling in other subjects, really struggled in the math department. I am always on the lookout for new tips and tricks to implement into my tutoring sessions that will grab these kid's attention and stick with them. My goal is always to leave my kids with the ability to apply what they've learned on their own, and Math Hoops is a great solution for the ones having trouble with math. I've watched as they've gone from avoiding math, to actually enjoying it. Try out Math Hoops if you're a teacher, tutor, or parent - it'll make your life easier and it may make math your kid's new favorite subject!
NBA Math Hoops effectively utilizes a love for basketball to build math skills and confidence.
Children practice math fluency and data analysis skills including addition, subtraction, multiplication, division, absolute value, square roots, and more! It also teaches decision making, problem solving, and team work when students compete against their peers in Class mode.
Find this product at:
As an Amazon Associate we earn from qualifying purchases.