Academics' Choice Award™ Winner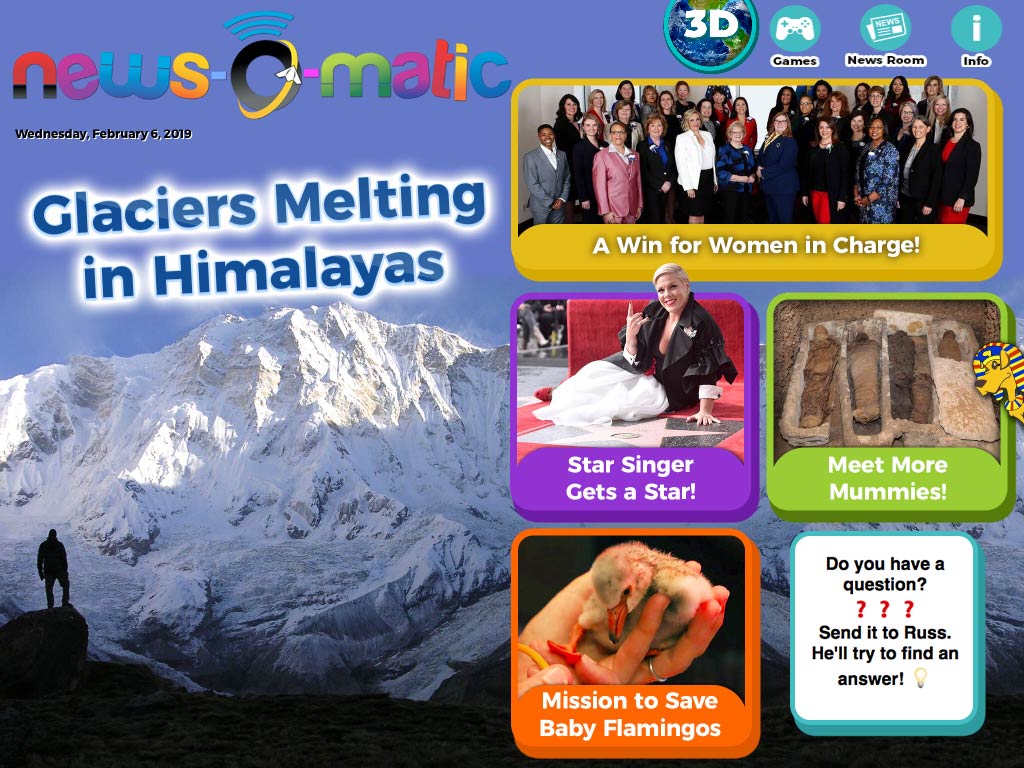 News-O-Matic
Ages: 5 - 13
Price: $34.99 for yearly subscription
Type: App, Magazine
By
Press4kids
Description
News-O-Matic is the Daily News Just for Kids! Every weekday it publishes five stories from around the world. Each article is written at multiple levels for readers of all abilities, from Kindergarten through Grade 8. Parents and teachers can download the News-O-Matic app to give children a rich nonfiction literacy experience.

The multimedia platform includes videos, games, and interactive maps. Kids can ask questions and share drawings in the News Room. These features spark greater engagement and promote a deeper understanding of each article. Comprehension quizzes allow readers to test their knowledge on the spot. All questions tie into state and national education standards.

Children can also listen along to every story read out loud by a literacy expert. Articles are even translated into Spanish, Arabic, and French and read aloud by native speakers in those languages.

Whether kids love sports, science, politics, or arts, News-O-Matic delivers the world's top stories. It strives to inspire students and empower them to become lifelong learners, critical thinkers, and global citizens.


Review Highlights:
News-O-Matic provides five easy-to-read and comprehend news stories each day with different types of interactive materials to aid in comprehension and engagement with no ads! In the current age of "fake news" I love the fact that each news story has citation information to learn more on stories of interest. The read to me option helps children with reading and pronouncing more difficult words. I love the language options and how easy it is to switch between languages.
The articles are on topics of high interest for students, with visuals, links to definitions and pronunciations, and the option to change the language. The articles are updated daily! Students practiced their literacy and critical thinking skills as they read the articles. The app also helps stimulate emotional development and social awareness.
News-O-Matic delivers the daily news in a fun, fact based manner that gets children engaged and involved in current social events. Once downloaded to the ipad, children are able to choose a colorful image and learn more about that current topic. Subjects range in a wide variety such as the World Cup, to Legos, to Wildfires in Washington. The variety of exploratory elements is just amazing. Students can click on Games for trivia or puzzles, News Room, to read what others have written to the editor, Maps of areas that are covered in the articles and the list goes on. Stories and articles can also be read to the student with a single click.
My child checks on the updates daily. He has never really cared much for current event until he was introduced to News -O- Matic. Now he looks through all the articles and either reads them or has them read to him. This app is a platform for us to talk about what's going on in the world and why.
This app also has a teachers guide that offers comprehension questions, writing prompts and discussion points. And to top it off (for all of you teachers out there) it is all aligned to the Common Core Standards. This has got to be one of the best, if not the best app for anyone who wants their child to learn more about whats going on in the world today. Needless to say, it is a social studies teacher's dream!
Buy this product at: