Academics' Choice Award™ Winner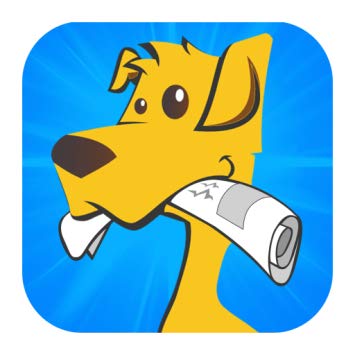 News-O-Matic
Ages: 6 - 14
Price: $34.99 for yearly subscription
Type: App, Magazine, Book, Website
By
Press4kids / News-O-Matic
Description
News-O-Matic is the Daily News Just for Kids! It publishes a brand new edition every weekday, 52 weeks -- even holidays and over the summer. Each article is written at multiple levels for readers of all abilities, from Kindergarten through Grade 8. Teachers and parents can download the News-O-Matic app or use the newsomatic.org web site to give children a rich nonfiction literacy experience.

The multimedia platform doesn't just include engaging and high-interest current events articles to keep kids informed. The daily features include videos, infographics, games, and interactive maps. Kids can ask questions and share drawings in the News Room. These features spark greater engagement and promote a deeper understanding of each article. Comprehension quizzes allow readers to test their knowledge on the spot. All questions tie into state and national education standards. The IOS app features augmented reality (AR) as well.

Children can also listen along to every story read out loud by a literacy expert. Articles are even translated into Spanish, Arabic, French, and (as of the 2021-22 school year) Mandarin. In addition, native speakers read and record each article aloud in all those languages so students can listen along for pacing, pronunciation, and intonation.

Whether kids love sports, science, politics, or arts, News-O-Matic delivers the world's top stories. It strives to inspire students and empower them to become lifelong learners, critical thinkers, and global citizens.


Review Highlights:
News-O-Matic offers a wide range of articles to meet the interests of a variety of learners. It motivates students to learn about and connect to the larger world through current events. News-O-Matic includes bridge activities such as fun educational games and opportunities to ask questions and even submit drawings.
News-O-Matic is a one-stop-shop for current events for students. It offers interactive learning that parents and teachers can feel confident allowing kids to explore independently.
My 9 year old daughter enjoyed looking at pictures of different historical events. My 11 year old appreciated that different categories were color coded and that there was a variety of topics available.
As an educator, New-O-Matic would make an easy addition to a whole-class news activity using a smartboard (or similar). The stories spark discussion and have an element of "fun". Unlike video-only news for kids, News-O-Matic encourages the process of reading and reflection (and sharing) with families or peers. In our current remote-learning situation, News-O-Matic stories would be great to offer students some choice and voice in what they are interested in sharing with a small group or whole class. Homeschool families would enjoy exploring news stories at the depth and complexity they choose. This is a fantastic subscription to encourage family discussions!
News-O-Matic is an amazing resource! It provides timely, relevant information on topics that really engage kids. My children (ages 7 and 10) have different reading levels offered by News-O-Matic. The news stories change daily and the interface allows the user to scan between different days to review content. The bulk of each story is the text, but photos, illustrations, and even video really "beef up" the experience of reading news. There are so many interactive opportunities. The "Let's Go" button allows kids to explore locations, distances, and even listen to audio highlighting a region's language.
News-O-Matic has sparked creativity in responding to news. There is an option to draw your own picture of the news story of your choice. My daughter thought this was great fun, as she wanted to reflect on the story of a bakery that was made famous for it's cake replicas of toilet paper! News-O-Matic has a screen border of additional features that allow for kids to extend their exploration of a story or topic. Slideshow offers additional photos, the video tab highlights a story, the Fact/Act section encourages children to ask questions and even get movement! There are questions (quiz) about a story and students can highlight and even save the text of an article. There are additional games related to vocabulary and spelling as well.
I liked the focus on unbiased news reporting. There was a focus on news-worthy content that is applicable to the broader national discussion (articles on Covid-19, Space-x, TikTok, etc) but also articles that kids genuinely want to read.
This app is so much fun and so educational. Each day there is a current event that is relevant to today's news but written so younger people can understand. The page can be articulated to any grade K through 8. It is inviting and engaging and helps create conversation. It also has a brief history portion that highlights an event or person to give key facts that are easy to remember and are engaging to the mind. There is life portion that highlights interesting facts and news about taking care of yourself that helps open up kids minds to more of what they could possibly participate in and what challenges they may face. Each of the topics are so great for starting a conversation about anything in life.
We love News-O-Matic! This website was perfect for my son. So many age appropriate images and articles to click on! We read and learned about Mindfulness, protests, and silly walks. It was so easy to read, then click on the video or game button to support the content in a different way. The articles were age appropriate and full of engaging images. I liked the interactive ability on the site to click on vocabulary words for proper pronunciation and definition.
We learned about current events, practiced reading age/conent-appropriate news, spelling, and learned about civics and history. We loved the colors and all of the wonderful articles. The interface was clean and easy to read. The articles were interesting (high-interest reads) and my son definitely improved his vocabularly. The games were enjoyable--a nice amount of variety on the site.
I love the simple fact that News-O-Matic encourages young kids to engage in current events. Reading age-appropriate news will increase civic engagement levels when children become adults. The discussions that happen and the self reflection that takes place will help the next generation become better thinkers and global citizens. I also appreciate the fact the articles can be read out loud for my younger kids!
News-O-Matic provides five easy-to-read and comprehend news stories each day with different types of interactive materials to aid in comprehension and engagement with no ads! In the current age of "fake news" I love the fact that each news story has citation information to learn more on stories of interest. The read to me option helps children with reading and pronouncing more difficult words. I love the language options and how easy it is to switch between languages.
The articles are on topics of high interest for students, with visuals, links to definitions and pronunciations, and the option to change the language. The articles are updated daily! Students practiced their literacy and critical thinking skills as they read the articles. The app also helps stimulate emotional development and social awareness.
News-O-Matic delivers the daily news in a fun, fact based manner that gets children engaged and involved in current social events. Once downloaded to the ipad, children are able to choose a colorful image and learn more about that current topic. Subjects range in a wide variety such as the World Cup, to Legos, to Wildfires in Washington. The variety of exploratory elements is just amazing. Students can click on Games for trivia or puzzles, News Room, to read what others have written to the editor, Maps of areas that are covered in the articles and the list goes on. Stories and articles can also be read to the student with a single click.
My child checks on the updates daily. He has never really cared much for current event until he was introduced to News-O-Matic. Now he looks through all the articles and either reads them or has them read to him. This app is a platform for us to talk about what's going on in the world and why.
This app also has a teachers guide that offers comprehension questions, writing prompts and discussion points. And to top it off (for all of you teachers out there) it is all aligned to the Common Core Standards. This has got to be one of the best, if not the best app for anyone who wants their child to learn more about whats going on in the world today. Needless to say, it is a social studies teacher's dream!
Buy this product at:
As an Amazon Associate we earn from qualifying purchases.