Academics' Choice Award™ Winner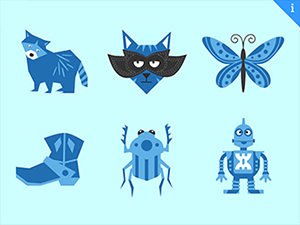 Peek and Seek
Ages: 3 and up
Price: $1.99
Type: Mobile App
By
Play Odyssey Inc
Description
This suite of engaging activities is designed to promote visual discrimination skills in young and special needs children. These activities emphasize fundamental visual skills such as figure / ground, closure and form constancy. A unique color pallet has been chosen to be accessible to children with various color perception issues.


Review Highlights:
The app focuses on visual discrimination skills such as distinguishing between an object and the background, form constancy, and visual closure. Kids have opportunity to recognize similarities and differences between shapes, size, colors, objects and patterns.
I love that this product addresses a narrow but vitally important set of skills - skills that most parents have never considered - or even know about! The app is beautiful in both color and design. The shapes and colors used are visually appealing and interesting - and even better, were thoughtfully and intentionally chosen with visually impaired children in mind. It's amazing! This entire app was designed with both children and parents in mind. I so appreciated that there are no in-app purchases or advertising. The activities are no-pressure, allowing for a child to play more freely - without worry or expectation.
Peek and Seek is a beautifully and thoughtfully designed app that addresses a vitally important but often forgotten need. Visual discrimination skills are foundational to literacy skills, and I'm thankful this may help more parents become aware of this important set of skills.
This app develops observation and visual discrimination skills including visual closure, visual figure ground, form constancy, and visual spatial relationship.
Every aspect of Peek and Seek was carefully constructed and designed. As we were experiencing the app, I kept thinking how much I liked the color palate. It's visually interesting, unique, and beautiful. (I absolutely LOVE the design and look of it!) But, what makes it even better is that the colors were intentionally chosen so that children with color perception issues could still interact with and utilize the app.
Parents can feel confident and safe allowing their child to learn, play, and explore within the Peek and Seek app. (Bonuses: NO in-app purchases or advertising!)
Another great feature is that children do not need to be able to read to use the app. Verbal directions are given before each task/challenge. (Bonus: helps develop listening skills too!)
Buy this product at:
As an Amazon Associate we earn from qualifying purchases.