Academics' Choice Award™ Winner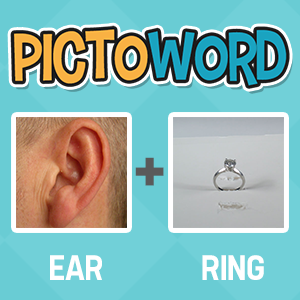 Pictoword
Ages: All Ages
Price: Free
Type: Mobile App
By
Kooapps
Description
Pictoword - a simple yet addictive word game where you "read" a series of pictures that combine to create a word!

With over 4 million downloads, the entire world has fallen in love with Pictoword! Entertainment website BuzzFeed listed Pictoword as one of the insanely addictive apps you need to have on your phone. With tons of picture guessing categories such as historical figures, landmarks, countries, celebrities, movies and more means you'll never tire of playing one of the most popular word-based games on the market.

Whether playing alone or with friends, Pictoword boasts endless hours of brain training and word-unscrambling fun on your smartphone or tablet.

You'll be delighted by the challenging and fun picture-word game Pictoword!


Review Highlights:
This app develops observation and investigation plus decision making. I liked how fun it was, the whole family can play along. The first 50 or so levels are pretty easy but after that, it starts to get challenging. Our family had fun guessing what the pictures could be. We played it 2 different ways; one person would try to guess on their own and then if they didn't know, they would pass it to the next person. The next way we played, we all looked at it and tried to be the first person to get it right. So glad there are extra clues and that you get free coins a day to add onto your other coins.
Students learning about compound words, spelling, and picture analysis. It would be a good introduction to compound words for younger children. Words need to be spelled correctly by clicking on a selection of letters, so 3rd-5th grade might be a target audience. Younger children would enjoy it with help. As a speech pathologist, I could definitely see using this with children who need help with vocabulary skills. It would be a fun way to practice.
Buy this product at:
As an Amazon Associate we earn from qualifying purchases.