Academics' Choice Award™ Winner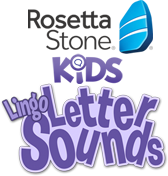 Rosetta Stone® Kids Lingo Letter Sounds
Ages: 3 - 6
Price: Free
Type: App (iPad, Android, Kindle)
By
Rosetta Stone
Description
Rosetta Stone Lingo Letter Sounds is a free mobile app created by Rosetta Stone to enhance language and reading skills for children ages 3-6. The app harnesses the Company's pioneering language immersion methodology and proprietary speech recognition technology to deliver core English reading skills alongside a fun and interactive introduction to Spanish. It provides an educational resource for parents eager to introduce their children to both basic literacy skills and a foreign language at an early age. It also includes original content to support two hours of game play, including activities that promote phonetic awareness, pronunciation of letter sounds, and grasp of everyday Spanish phrases.

The app was designed with children in mind from start to finish, using the world's first and only real-time end-to-end speech recognition system tuned to kid's voices, developed by Rosetta Stone. It is the first app to address both literacy and foreign language (Spanish) acquisition for children and the unique user interface is designed to engage children. The app also features a secure Parent Corner where adults can monitor their child's progress on the app every step of the way.
Review Highlights:
My two nieces enjoyed the free app - there was lots of giggling. It's a great casual learning phonics based letter recognition and introductory Spanish program. It held their attention for longer than most apps. My three-year-old niece (the youngest) received the most benefit. After a few days of playing she had picked up many new words and was speaking the words correctly.
The Spanish game (Speak & Learn) was fairly limited in terms of words introduced and not to strict on pronunciation, which is arguably a good thing when introducing a new language to young kids. The kids loved it though and repeated the three Spanish games several times.

The Bubbles Letter Sounds game was somewhat repetitive, but very effective at teaching beginning letter sounds of familiar, everyday words. The exploratory learning interface allows the child to click on images of familiar items to hear the word before matching the upper or lower case letter with the image.
Buy this product at:
As an Amazon Associate we earn from qualifying purchases.