Academics' Choice Award™ Winner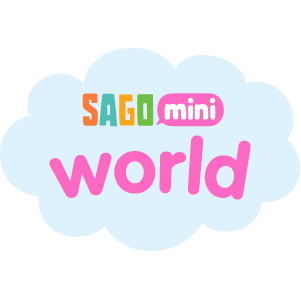 Sago Mini World
Ages: 2 - 6
Price: $6.99/month
Type: Mobile App, Game, Software
By
Sago Mini
Description
Sago Mini World is a subscription app with over 35+ games. The game builds emotional intelligence, creative problem solving and self confidence through open-ended play - while allowing kids to play at their own pace.

-Intuitive design develops fine motor skills and autonomy
-Curiosity and exploration are rewarded, as surprises are revealed with every click
-Develop numeracy, colour recognition, music appreciation, painting & storytelling skills and more across all 35+ of our games.
-Active play: no time limits, prizes, rules or limits
-Built for the way kids play: developed to encourage and celebrate natural play patterns


Explore space, fly through a forest, build a robot, design a monster, drive a firetruck, deep-sea dive, become a superhero more — all in one whimsical world!


Review Highlights:
Sago Mini World offers SO many creative options for children to explore their interests, from outer space, music, animals, robots and much, much more. My kids loved all of the fun characters, bright colors, and so many games to choose from. The Sago Mini World app promotes interactive play, and encourages kids to engage in self-motivated discovery. I have used this for years with my now six year old (starting when she was a toddler), and it continues to keep her interested. It always has kid-friendly content, and as a parent you never have to worry about random advertisements.
We love that this app has so many games in one! My four year old loves playing on this and interacting with the cute characters and exploring through the different places like outer space or the ocean; it's easy for him to navigate and I know it's safe because it's KidSafe certified. There's always new things for him to discover on Sago Mini World, and the combination of all of the games makes it worth it (there's over 35 games in this single app). There are lots of bright colors, silly sound effects, creative graphics, fun activities, and has overall enjoy-ability to play. There's no right or wrong with this app, it's opened-ended creative play that is perfect for young children. My son's favorite thing to do is building his own robot or creating crazy monsters.
In the Sago Mini World, children have a wide variety of games and activities to choose from. Each world provides unique environments for the characters to engage with. Children can play dress up, build, engage with music, create monsters and bugs, practice preschool concepts in the puppy preschool, and visit different landscapes such as the ocean, as just a few of the many activities available. Many of the games focused on cause and effect which is very engaging for young toddlers. Some of the games work using a variety of reactions. For instance when building with tools, the child could just touch the bolt to get it to turn or you could move your finger in the direction you wanted the wrench to turn. This allows for more flexibility in the play and skill variation based on age.
I really liked the variety of games included within the Sago Mini World. The characters were cute and the games had an element of surprise built in. The 6-year-old that played the games noticed that after she dressed up the characters, there was a camera option, and sometimes the characters would make funny faces in the pictures. She specifically commented on this while playing. She was engaged with several areas of the game for at least an hour and returned to some of her favorite areas periodically. I liked the ease of use for younger children. The 2-year-old had no trouble interacting with the games. Her favorite was creating the monsters. She liked being able to change the faces and feed the monsters. She also enjoyed the music box and sound box. She liked making the musical sounds very fast.
This exploratory learning app is simply excellent. It's intuitive, works great as a standalone, but coupled with parent involvement it becomes a spectacular learning tool. I particularly loved the helpful question prompts specifically for parents and teachers to enhance the learning.
Buy this product at:
As an Amazon Associate we earn from qualifying purchases.