Academics' Choice Award™ Winner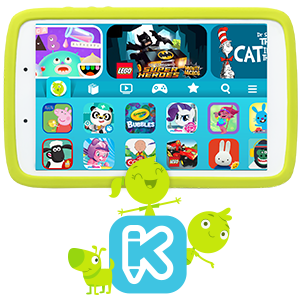 Samsung Kids
Ages: 2 - 8
Price: $7.99 per month ($59.99 annually)
Type: Mobile App, Game, Book
By
Samsung Electronics America
Description
Samsung Kids is an all-inclusive subscription content service that offers parents and children a library of expertly curated, engaging educational games and books mapped to U.S. Common Core standards with an emphasis on STEM education. New content is added monthly for a renewed experience. The service allows children to experience their favorite characters, games, and content in a parental-controlled environment where parents can identify specific subject areas for their child to focus and control the amount of time they are using the app. There are no ads, so parents may rest assured that kids are only engaging with content they trust.

The latest update to Samsung kids offers a fresh, new look! We've made search easier with voice control, improved the interface to be even friendlier for kids on the go, given your child more ways to personalize their experience with cool new avatars, and unveiled a new line of original learning songs & animations featuring the Samsung Kids!

Parents will love the robust parental controls that allow time management, content filtering, progress monitoring and a password-controlled environment that keeps kids safe. Want to add outside apps to the already huge Samsung Kids library? No problem. We make that easy so that you can build a truly custom environment for your child to play and learn in.

The Samsung Kids library of game, TV, movie and book titles focuses on reading, math, STEM and creativity, but always with a focus on fun. You child will play with brands like Scholastic, Sesame Street, LEGO, Toca Boca, Dr. Seuss and Crayola, featuring favorite characters like Chuggington, Kung Fu Panda, Peppa Pig, Thomas the Tank Engine, Cat in the Hat, Peanuts, My Little Pony, Transformers and more!


Review Highlights:
This curated learning platform offers exactly what parents, homeschooling parents, and educators need—an easy way for kids to access a wide variety of educational, ad-free and upsell-free apps, that allow guardians to control and monitor what subjects and activty types are being learned, and for how long—all for a fair price.
Many of the apps found in the Samsung Kids platform have already won Academics' Choice Awards such as The Foos, The Cat in the Hat by Dr. Suess, LingoKids, and Sago Mini World. The Samsung Kids platform also leverages content from many of Academics' Choice award-winning brands including Discovery Kids, Oceanhouse Media, Sago Sago Toys Inc., Jumpstart, and many more.
As a teacher and father of two tech-savvy young boys I really appreciate that the Samsung Kids platform lets me limit their screen time, guide their learning based on their individual subject area needs, and doesn't let them leave the platform without my code.
After a little exploration to understand the interface my child was clicking and learning. The collection of learning games and books is fantastic. And unlike most other platforms, I didn't have to buy more apps every time my son found something he liked. With the subscription, we simply downloaded the app and my son knew it was installed in the platform and ready to play by the presence of the green checkmark.
The Samsung Kids platform unlocks a world of learning at a fair price while keeping your kids highly engaged and safe online. It's that simple. The fact that parents can now also add outside apps to the curated library is a huge bonus.
Note: The Samsung Kids app is available for download on Galaxy phones and tablets in the Google Play store and Galaxy Apps store, and is pre-loaded on select Galaxy tablets, including the Galaxy Tab E Lite that comes with a neon protective bumper designed especially for kids.
Buy this product at:
As an Amazon Associate we earn from qualifying purchases.