Academics' Choice Award™ Winner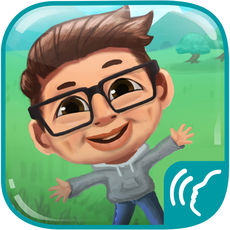 Sayin' It Sam™
Ages: 1 - 4
Price: Free with in app purchases
Type: Mobile App
By
Appropo Software LLC
Description
Sayin' It Sam is an iPad/iPhone game app for early language learners and kids like my son with severe autism and speech issues. It uses Speech Recognition so kids can play by voice. Sayin' It Sam is intended to promote speech production and help kids practice using their words.


Review Highlights:
The Sayin' It Sam app helps young children with speech disorders or autism practice enunciating words by saying the names of colors out loud. More words may be available, but we only practiced saying color names. This seemingly simple app is very unique in that it uses a modified speech recognition program to allow for acceptable variations of the spoken word in order to motivate kids with positive reinforcement to use their voices. The concept is a good one and I have several students who benefited from this game.
Parents of children with severe autism, teachers, and language therapists would benefit from having this app in their toolbox. Children with austism often gravitate to phones, tablets, and computers over human interaction so this innovative app fills a real need. Fair warning: you will need to be in a very quiet room without background noise for the app to work well.
The game uses OpenEars software to recognize single word utterances and approximations. The game creators cleverly altered the software recognition program with the help from speech language pathologists to reward acceptable varitions of spoken words. For example, if a child says boo, buh, bwoo, buh-luh, loo, bah, for the color "blue," the game will accept the response. For "green" Sam accepts gee, geenuh, gween, gin, keen, neen, deen and ghe. We did find that "brown" was often accepted when it should not have been, but overall this is a quality app that deserves recognition. I will be recommending it to my colleagues.
Buy this product at:
As an Amazon Associate we earn from qualifying purchases.