Academics' Choice Award™ Winner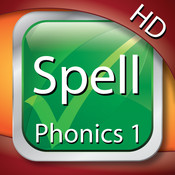 Simplex Spelling Phonics 1
Ages: 5 and up
Price: $4.99
Type: iPad App / Software
By
Pyxwise Software Inc.
Description
Simplex Spelling Phonics 1 teaches a full year of spelling curriculum and features over 450 high frequency spelling words to help build literacy. It provides 42 instructional lessons in phonics and spelling rules. Each lesson builds upon the skills learned in previous lessons, and students piece their spelling words together in a fun and interactive way. Simplex Spelling Phonics 1 uses our unique "reverse phonics" approach that acts like a personal spelling coach and guarantees success on every spelling word.

Spelling patterns and a wealth of spelling knowledge are contained within a beautifully simplistic interface. The powerful hint system phonetically sounds out each word while letting the student see all of the possible ways that a word can be spelled phonetically. Each word can be pieced together from its smallest or simplex sounds, and spelling hints and rules are provided to students in context and only as they are needed. Children can easily pick up and use Simplex Spelling as the introductory spelling list contains spoken instructions that gently guide the child through the app's entire feature set.
Review Highlights:
Understanding the sounds attached to letters and learning to sound out words are necessary skills for students to become independent readers. Simplex Spelling Phonics 1 makes it easy for students to practice these critical skills while boosting confidence. The app helps bridge the gap between phonemic awareness and phonics. 450 high-frequency words are taught in forty-two spelling lists focused on specific concepts such as short vowel sounds, long vowel sounds, phonograms (letters that represent the sound such as "–ump" in bump), and diphthongs (gliding vowels such as cow).

The interface is clean and the navigation is simple enough for a child to work independently without a teacher or parent (after the student views the helpful introduction lesson). A soothing voice prompt presents the word to spell and then uses the word in a sentence. After the student attempts to spell the spoken word by clicking or dragging and dropping letters into the tiles provided, color-coded letter tiles reveal incorrect / placement issues allowing the student to achieve success on every word presented. A hint button presents letter-sound correspondence, phonetic spelling variations, and offers help sounding out the word. The app allows multiple users to save their progress and provides tracking for teachers and parents to review. The app even supports U.K., Canadian and U.S. English. It's a great value too!

The hint button and color-coded feedback were the apps best features. These two elements allowed students to gain mastery quickly and work independently. Several reviewers suggested adding visual aids (when possible) to help add meaning to the words.
Buy this product at:
As an Amazon Associate we earn from qualifying purchases.