Academics' Choice Award™ Winner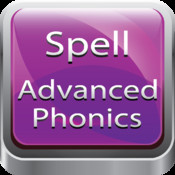 Simplex Spelling Phonics - Advanced Phonograms
Ages: 6 and up
Price: $4.99
Type: iPad App / Software
By
Pyxwise Software Inc.
Description
Simplex Spelling - Advanced Phonograms teaches over a year of spelling curriculum covering more than 750 high frequency words divided into 52 lists that are organized by spelling patterns and difficulty levels. Each of the 52 lists comes with a lesson that teaches one of the basic building blocks of spelling in the English language. These basic building blocks include syllables, sounds, spelling rules and some of the more advanced English phonograms.

Simplex Spelling Advanced Phonograms focuses on more difficult phonograms in the English language. The lessons cover less commonly appearing phonograms along with those that appear in more difficult to spell words. The phonograms covered include: au, aw, ou, ui, ear /er/, oe, ph, gn, ew, eu, ei /e/, ei /a/, eigh, ch /k/ and ch /sh/. There are additional lessons covering contractions, the capitalization of proper nouns, 'w' control sounds and the use of 'i' for the long e sound in words of foreign origin.

Students learn a new concept for each lesson building on the skills learned from previous lessons and those covered in Simplex Spelling Phonics 1 & 2. Simplex Spelling Phonics Advanced Phonograms guides the student and acts as a personal spelling coach with every word, while teaching students "how to spell" English words. Every word is broken down into its syllables both visually and auditorily to help students build phonological awareness skills. Our "reverse phonics" hint feature breaks each word down further into individual phonemes to improve phonemic awareness, a critical skill in achieving literacy.
Review Highlights:
Awesome app! My son really enjoyed playing it!
Buy this product at:
As an Amazon Associate we earn from qualifying purchases.