Academics' Choice Award™ Winner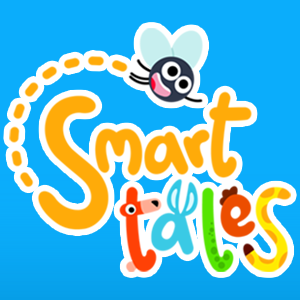 Smart Tales
Ages: 3 - 6
Price: $7.99/month or $56.99/year after 7-day Free Trial
Type: App, Book, Game
By
Marshmallow Games srl
Description
Smart Tales is a rich library of interactive stories and animations that teaches STEM subjects (Science, Technology, Engineering and Mathematics) to children aged 3 and up. Smart Tales offers children the opportunity to grow their problem solving skills, critical thinking and understanding of science, all in a fun and interactive way.

Each Smart Tale contains many animated and interactive storybook pages. Children, led by a voiceover, can interact with the animations with a single touch and discover a world filled with magic and fun. The storytelling is dotted with games that change every time they are played. This always lets kids enjoy the stories in an active way.

STEM stands for Science, Technology, Engineering and Mathematics. These are the most important subjects for developing logical reasoning and problem solving skills. With the stories and games in Smart Tales, these vital skills can grow naturally. This leads children, in an orderly way, to the discovery of new, ingenious solutions.

In Smart Tales, there are:
- 45+ original stories written by speech therapists, educational experts and teachers
- 500+ animated pages created by artists who are experts in children's entertainment
- 250+ educational games designed by speech therapists and educators, tested by kids and validated by hundreds of teachers.

We work constantly to add new content. Every week, a little more magic is added to the smartest library in existence!

Main features:
* PROFESSIONAL VOICE-OVERS: every story is dubbed by professional voice-over artists that allow everyone to follow the stories, including young children who cannot read
* SOCIAL THEMES: The main themes addressed in Smart Tales are friendship, diversity, empathy, resilience, sharing, cooperation, fair play, respect for the environment, preventing bullying, and many more
* INTERACTIVE GAMES: there is an interactive game after every two or three storybook pages. This allows children to enjoy the app in an active way.
* INTERACTIVE ANIMATIONS: every animation changes with a single touch for even greater fun!

Studies show that reading for at least 20 minutes a day helps to:
- increase vocabulary
- stimulate the ability to listen
- predispose children to do well in school
- strengthen family relationships
- recognize emotions and develop empathy

Reading offers children infinite possibilities to grow even... smarter! :)


Review Highlights:
The Smart Tales multilingual app featuring original animated short stories with integrated thematic games that change everytime a child plays is a welcome addition to our virtual library. Our kids love listening to the stories and interacting with the ever-changing games. The professional narration is clear, consistent, engaging and ensures early readers learn to pronounce each word correctly in various languages. The animal adventures combined with the colorful animations and activities spaced throughout the stories makes for a cinematic-like interactive learning experience. Children learn and practice important skills such as emotion identification, listening and reading skills, empathy, vocabulary, pattern recognition, comparing and contrasting, sorting, and many other critical thinking skills needed for preschool readiness and beyond.
As a father of a young polyglot I sincerely appreciate that Smart Tales supports mulitple languages (English, Italian, French, German, and Spanish). My daughter can now read and listen to these stories in both English and Spanish and I particularly love that the games are different each time so there is more learning involved each time we repeat the story (which happens often). My daughter's favorite stories are Save the Forest and Luna in Space. Many of the stories ryhme, or are meant to, which is excellent and engaging, but they don't always translate well to English, which is a valuable lesson in of itself. For monolingual families I would highly recommend listening to the stories in both your native language and then a foreign one. Young kids soak up foreign language vocabulary so quickly you'll be amazed what your child will learn to say!
Buy this product at:
As an Amazon Associate we earn from qualifying purchases.