Academics' Choice Award™ Winner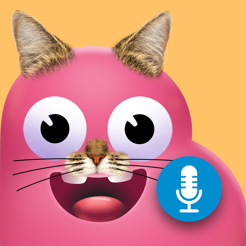 Speech Blubs
Ages: 1 - 8
Price: US$4.99/month (subscription) | Monthly, annual, and lifetime plans available. 7-Day FREE Trial
Type: App, Audio, Book
By
Blub Blub Inc.
Description
The Speech Blubs app is an interactive, educational, and fun tool that helps pre-school kids jump-start their speaking. This SLP-approved app is based on the science of mirror neurons and video modeling to get kids speaking.

Parents also like it because it offers quality smart screen time. Speech Therapists (SLPs) recommend it because parents can: engage with their child, let him/her be in charge, practice with them on a regular basis, role play like there's no tomorrow, take lots of pictures, and bribe their child with digital candy!

Speech Blubs has 25 sections with over 1,500 activities (including new words weekly, building sentences, numbers, colors, songs, etc.), and most importantly, it includes children in the videos.

SLP's say "the student is more engaged using this for speech activities than if I was to model the sounds myself," and "The use of children in it to model sound and oral motor sounds is much more engaging for a young student."

The practical ways parents use it include: drawing the words with your kid; singing songs; finding the words in your toy box, in the kitchen, in the playground, etc.; using it on the go; and even creating a before-going-to-school routine.

You'll see, kids become very engaged! Speech Blubs will help turn your child's vocalizations into babble (we call them "blubs"), and then into words!

Discover 250+ helpful articles written by speech and language pathologists at www.speechblubs.com/blog


Review Highlights:
The usage of children as the speech models was a fantastic move. Having a peer to imitate, rather than an adult, makes correct speech feel more accessible and achievable.
Children practice their articulation through imitation and observation. As children work through pronunciation, they also increase their vocabulary and overall comprehension. As children work through the app, they practice listening and direction following.
I love that children are not only given a sound recording of correct pronunciation - but a VISUAL example as well. It is so critical for a child to see the way to open their mouth, move their tongue and lips, etc. That's a huge component of speech development that many outside of the field do not recognize! Kudos to Speech Blubs for providing this example!
The photo filters and mini games helped to keep the app engaging - especially for older kids, and likely will prevent the app from feeling like "work."
We give it 5 blubs! Highly recommended to jump-start speaking!
Buy this product at:
As an Amazon Associate we earn from qualifying purchases.